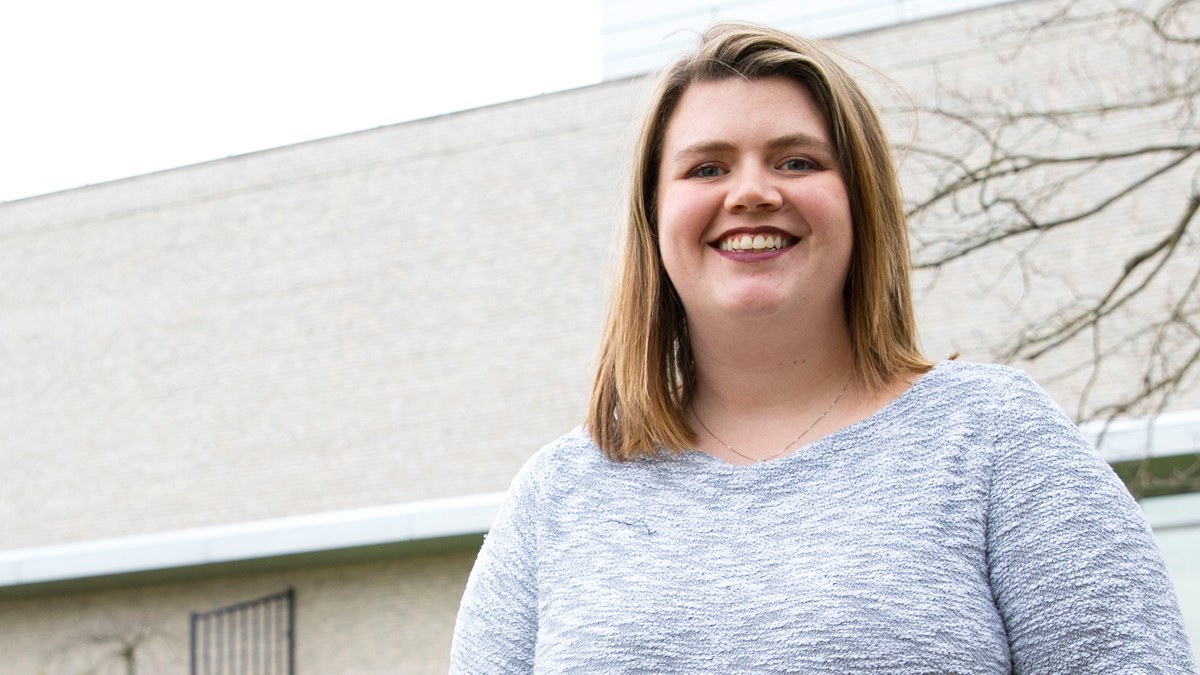 Hometown:

Ripley, West Virginia

Undergraduate Degree:

Immunology and Medical Microbiology program , School of Medicine, West Virginia University
Choosing a major can be challenging, but for Kensey Bergdorf, the decision was prompted by a peculiar fascination, one that was developed at an early age.
In an attempt to keep her preoccupied, Kensey's mother, a medical student at the time, would give her some of her books to look at the pictures. This is when Kensey fell in love with these captivating small organisms that go unnoticed and often cause illness and disease, otherwise known as parasites.
"I remember seeing microscopic images of parasitic worms and stained cells and thinking they were so cool," Kensey said. "Then I read a couple of science fiction books in high school that dealt with parasites and crazy diseases. There were stories about parasites that take over the brains of mice and make them want to be near cats, or parasites that live in snails' eyes and make them glow so that the snail gets eaten by a bird. I wanted to learn more about how those things worked."
When it was time for Kensey to choose her undergraduate major, it was the Immunology and Medical Microbiology (IMMB) program at West Virginia University's School of Medicine that felt like the perfect fit for multiple reasons.
As a WVU Foundation Scholarship recipient, Kensey, who grew up in Ripley, West Virginia, found in the IMMB program an array of specializations that echoed her interests. The degree positions students from diverse backgrounds to serve as professionals that are knowledgeable about the immune system, how it functions, and the consequences of its malfunction. The breadth of research and volunteer opportunities that are available for students is another strong appeal for this program that serves as a strong foundation for graduates who would like to pursue several professional career paths or progress to advanced studies.
"I wouldn't have wanted to be at any other place," Kensey said. "The level of exposure and opportunities offered in the IMMB program are exceptional. During my freshman year, I was in a paid position in a research lab and have been in that position ever since. I have been to conferences paid for by our program. Classes are tailored to fit our interests and faculty members take our feedback into consideration and make changes accordingly. It is a support system, and there is a community feeling shared across the board."
Kensey credits the program for the supportive and caring nature of its professors who go beyond the call of duty to ensure their students not only get the quality education and guidance they need, but also enjoy a healthy, encouraging atmosphere where they can learn, communicate and grow into independent researchers and future scientists.
"Our faculty members are phenomenal," she said. "My advisor, Dr. Schafer, is very hands-on, both scientifically and in developing the way students project their vision. Dr. Barnett is the principal investigator in my lab, and I reach out to him a lot for advice."
Reflecting on her goals pending graduation, Kensey unveils that a pivotal moment in her life changed her longtime plan. In lieu of a career in medicine, a field that always intrigued her, she is opting to follow the research route and consider pursuing a doctorate degree in biomedical science. She says the IMMB program helped expose her to a rigorous and translational atmosphere of investigation, one that will prove invaluable to her future aspirations, and for setting the tone of what a fulfilling a career in research would look like.
"After my freshman year, I had a wake up moment when my dad passed away at the age of 38," Kensey said. "I realized that my life could be halfway over and that I should be doing the things that makes me happy. Then I realized that I wasn't happy when I was shadowing doctors or walking around hospitals; that wasn't really the environment I was thriving in. I was a lot happier when I was in the lab, getting results after 20 trials, staying late, and even working on weekends. I loved every second of it, and that's why I decided to change my whole life plan."
Kensey's aspirations don't stop here. Steadfast in her desire to pursue graduate studies, she is now applying and got accepted to several graduate programs, and commends the program for helping her stand out as an undergraduate competing with those in industry. She also hopes to use her minor degrees in political science and leadership studies as stepping stones to impact science policy on a national level and praises WVU for encouraging students to build their own path.
"WVU gives students a great deal of freedom to choose what suits them best," she said. "You don't feel locked in one track; the opportunities are endless."
When she is not studying or running experiments in the lab, Kensey enjoys cooking and painting where she finds solace from life's daily stressors.