WVU SOM Charleston Campus Gold Humanism Honor Society Welcomes New Members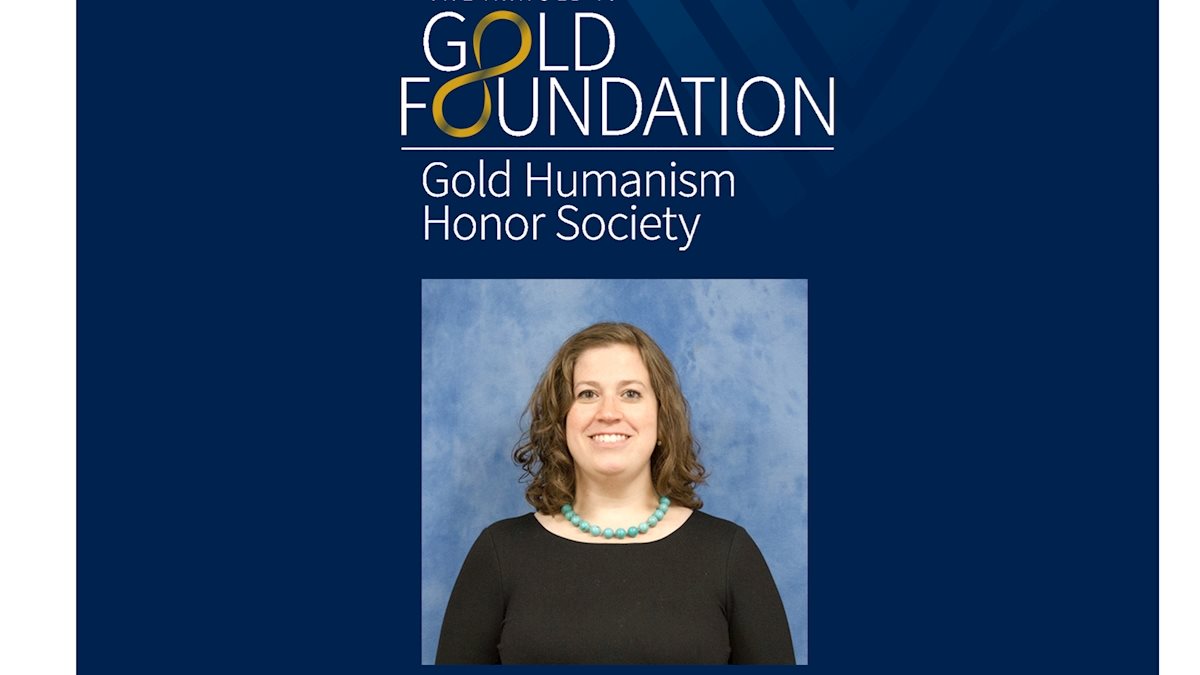 (Charleston, W. Va.) – WVU School of Medicine Charleston Campus chapter of the Gold Humanism Honor Society (GHHS) is proud to welcome Beth Bloom Emrick, MD, FAAP an assistant professor of pediatrics at West Virginia University's Charleston Campus. Dr. Emrick was chosen for this distinction by WVU School of Medicine peers and faculty, and is welcomed by Dr. Norman Ferrari, WVU's GHHS faculty advisor, in recognition of her exemplary competence, compassion and model of humanism in medicine. She will be joined by new 2021 GHHS WVU-Charleston third year medical students Paige McCaleb, Katie Robinson and Kate Webster.
The Gold Humanism Honor Society (GHHS) is a national honor society that honors senior medical students, residents, role-model physician teachers and other exemplars recognized for demonstrated excellence in clinical care, leadership, compassion and dedication to service. It was created by the Arnold P. Gold Foundation for Humanism in Medicine.
"Dr. Emrick's humanistic approach to patient care, teaching, advocacy and leadership is widely known and respected across this campus. We are a richer workplace, work-family and intercampus community with her in our midst," said Kathleen Bors MD, FAAFP associate professor of family medicine and Gold Humanism Honor Society, campus faculty advisor at WVU School of Medicine Charleston campus.
Thank you so much, Dr. Bors and GHHS team, for this kind welcome," Dr. Emrick said. "I am beyond honored to join your ranks."
Dr. Emrick and medical students McCaleb, Robinson and Webster's appointments will be celebrated at a virtual GHHS Induction Ceremony on Saturday, June 5, 2021, together with faculty, residents and students across all three WVU Health Sciences campuses.
These new members join the WVU Charleston Charleston GHHS team consisting of Will Crecelius M4, Landon Simpson M4 and Evan Vance M4; GHHS members, Grace Walkup, Family Medicine PGY1; GHHS member, Rebecca Brown MD, Internal Medicine/Psychiatry PGY3; GHHS member, Chelsea Knotts, Surgery PGY5; GHHS member, Jim Griffith MD, Associate Dean and Charter WVU School of Medicine GHHS faculty member, Jim Mears MD, WVU Family Medicine/CAMC Palliative Care, GHHS Faculty member, Mary Ann Maurer DO, WVU Family Medicine, GHHS faculty member, Tiffany Lasky MD, WVU Surgery, GHHS faculty member, John Linton PhD, AVP and Dean, GHHS faculty member and annual Summit advisor.
In nomination letters from medical students, residents and peer faculty, Dr. Emrick was recognized for her practical wisdom and exceptional competence and compassion. As an educator, her peers described her as a beloved mentor and teacher to medical students and residents, providing leadership and counseling to students in multiple campus roles, including as an advisor to students with academic and professional challenges. As a humanism advocate, she has been an instrumental supporter of the annual WVU Charleston GHHS Summit for many years in your role as the Charleston Women in Medicine chair, generously lending her time as organizer and presenter. As a clinician, the sole board-certified developmental pediatrician in West Virginia, Dr. Emrick's compassionate care to the most vulnerable and at-risk children and their families in our state.
With the annual GHHS Summit deferred due to COVID safety concerns, members are co-coordinating a series of intercampus activities supporting humanism in medicine through advocacy, service, academic and peer support, and research and scholarly activity.
GHHS activities include lunchtime lectures and recognition of resident teachers during GHHS Solidarity Week, Winter clothing drives benefitting homeless shelters, providing incoming Charleston medical students with a copy of Maxwell's Quick Medical Reference, mentoring of research and scholarly work by GHHS faculty and residents.
GHHS members provide community service as part of CHASM – Charleston Homeless and Street Medicine rounds at Union Mission Men's Shelter, Roark-Sullivan Lifeway Center, and YWCA/Sojourner's Women and Children's shelter, bi-weekly sessions providing blood pressure screenings and medical advice, as well as clothing and food donations; St John's Manna Meal, monthly sessions providing blood pressure screenings and medical advice, as well as food prep and donations, and community garden work; Kanawha Communities That Care programs, coordinating a range of community-based resources and support; and several campus-wide drives throughout the year to collect and provide clothing, toiletries and food for local and regional communities in need.