Online celebration marks half century of dental school program
50 years - Department of Orthodontics post-graduate degree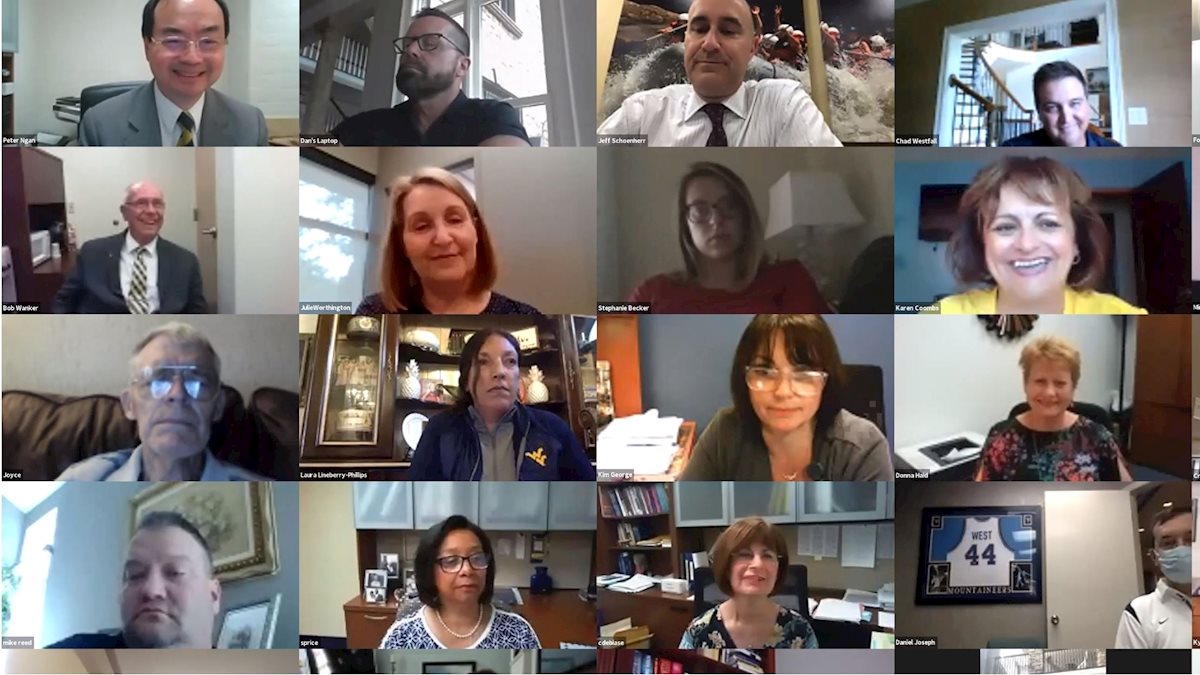 Since its inception in 1970, the Department of Orthodontics at West Virginia University School of Dentistry has been strongly supported by the people of the state, the University, the Health Sciences Center, alumni, students, faculty and staff.
"Fifty years after the founding of our graduate degree program, we continue to uphold the core values of providing competent graduates to serve the State of West Virginia and beyond," said Dr. Peter Ngan, department chair. "We look forward with great anticipation to the next 50 years." Ngan moderated and hosted a virtual celebration through Zoom Friday, September 11, 2020 marking the program's half-century mark.
Between 1970 and 2020, 160 orthodontists graduated from Department of Orthodontics. They have dedicated themselves to deliver the highest quality of orthodontic care in various parts of the country.
Seven distinguished faculty members have served as chair of the orthodontics department.
William W. Merow, 1970-1982
Robert Moore (Interim Chair), 1983
Dennis Bernard, 1984-1986
Harry Legan, 1987-1990
Rajiv Paonaskar (Interim Chair), 1992
Joe Pelle, 1993
Peter Ngan, 1994-present
The online anniversary celebration included updates on alumni and former faculty. Ngan shared the success of those who have moved on to positions as program directors and chairs and presidents of component societies.
Guest speakers included:
Dr. Harry Legan, former WVU Department Chair
Dr. Tim Tremont, former WVU faculty, current chairman at South Carolina
Dr. Hera Kim, former WVU faculty, current program director at Michigan
The dental school alumni association president, Dr. Mike George and Dr. Bob Wanker (Coach), alumni affairs, were joined by the president of the WVU Foundation, Cindi Roth in addressing the virtual ceremony's guests.
WVU President E. Gordon Gee, WVU Health Sciences Vice President and Executive Dean Clay Marsh and Dr. Foti Panagakos, Interim Dean of the dental school, congratulated current and former faculty members and graduates of the program on their success and thanked them for creating an environment known for producing excellent clinicians.
"Our new graduates will practice in a much more advanced biologically, pharmacologically and technologically driven orthodontics environment," Dr. Ngan said. "Future orthodontists will practice with digital photographs and models, 3-D radiographs, 3-D printers and sophisticated computer software. Our graduates will be treating a much more diverse group of patients, ranging from the very young to the medically compromised and the ever-growing population of aging adults."
Dr. Ngan opened the discussion to alumni including those who have contributed to the school and department through endowments. The support is crucial to providing students with an exemplary education and patients with outstanding care.
"In the next 50 years, our graduates must be men and women of science who can gather and analyze information in a systematic fashion in order to provide patient-centered care based upon the best available evidence. They must truly be "life-long learners" who maintain and enhance their knowledge and technical proficiency throughout their practice lifetimes," Dr. Ngan said.
If you were unable to attend the Zoom celebration or would like to catch up with former classmates, you can watch the event online. The Zoom link for viewing will be available for a limited time. Passcode: d%%2874i