Physical Therapy's Swisher takes Mountaineer spirit to present at national APTA meeting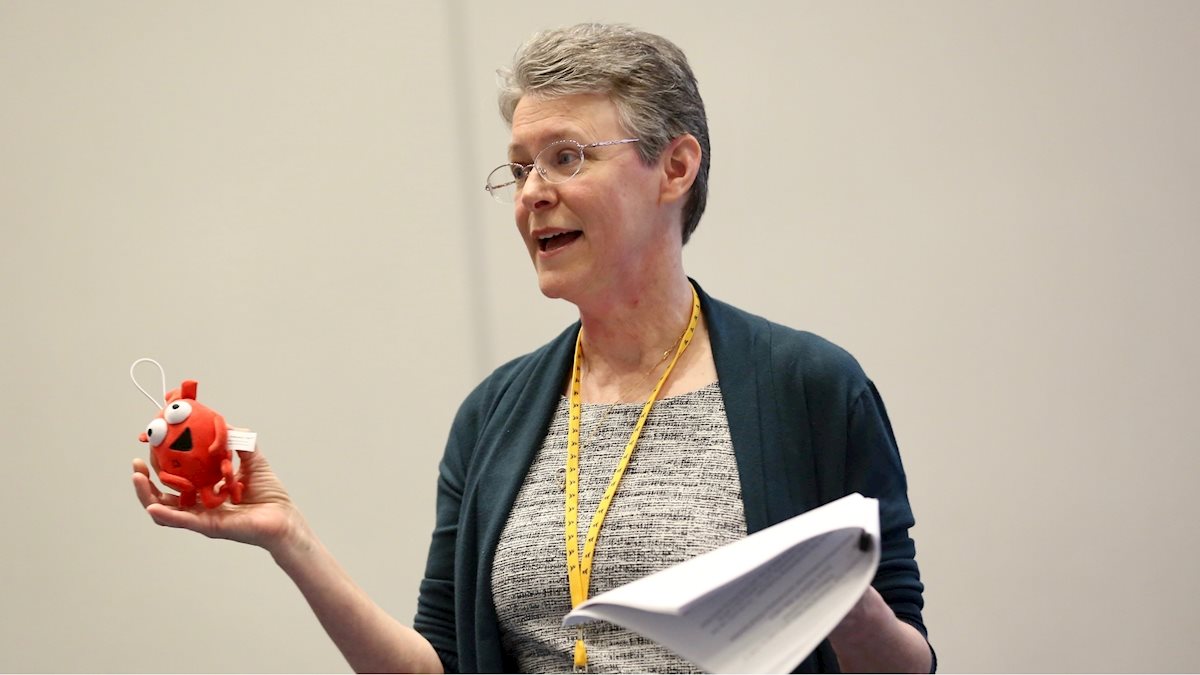 Crane lecturer Anne Swisher passed around a plush heart and asked attendees to think about something that made them excited. (APTA/Johnathan Bachman)
Anne Swisher, PT, Ph.D., from the Department of Physical Therapy presented the Linda Crane Memorial Lecture at the APTA Combined Sections Meeting in Denver, Colorado last month.
This lecture is the highest honor awarded by the Cardiovascular and Pulmonary Section of the APTA and recognizes a member who has had long-standing contribution to the organization.
Dr. Swisher emotionally connected with the audience, and ended her talk by leading the 400+ attendees in a well-received rendition of Country Roads.
"It was a great honor to be asked to give this talk in memory of a pioneer in the field, but it was even more fun to share my journey over the past 30 years as a physical therapist – most of that as a faculty member at WVU," she said. "Leading the attendees in the ECG dance and singing of Country Roads gave me a chance to connect with my peers and make everyone attending an honorary Mountaineer."
Swisher is an alumnus of WVU's physical therapy program, and has been a faculty member for 26 years. She is a past editor of the Section's journal, Cardiopulmonary Physical Therapy, and a Fulbright awardee for her work in Australia and Ireland.
You can view her presentation here.
Anne Swisher had attendees perform the ECG dance during her presentation of the Linda Crane lecture at APTA's Combine Sections Meething. (APTA/Johnathan Bachman)