Welcome, Class of 2024/2025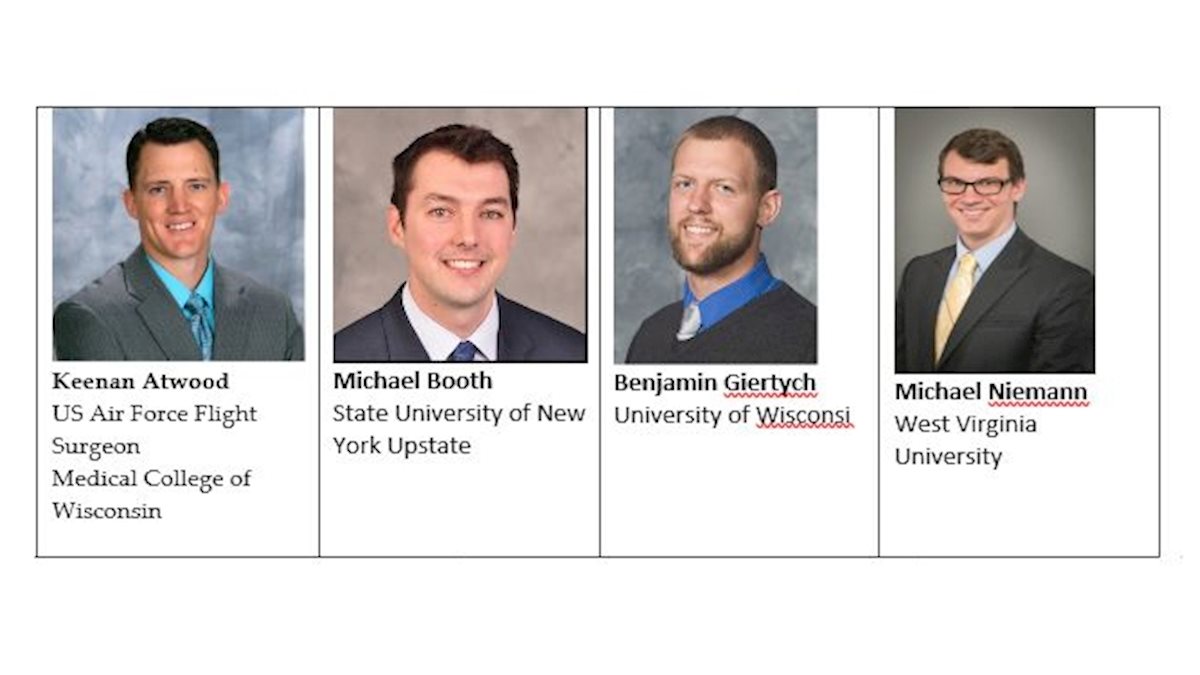 Keenan Atwood – US Air Force Flight Surgeon – Medical College of Wisconsin
Enjoys - Outdoor recreation: camping, hiking, boating, waterskiing, wakeboarding, snowboarding, rock climbing, mountain biking, swimming, and longboarding. Playing most sports to include: volleyball, basketball, spikeball, softball, baseball, soccer, and badminton. Loves being active and exercising, as well as relaxing and watching a movie with family.
Michael Booth – State University of New York Upstate
Enjoys - Golf, baseball, weight lifting, basketball, traveling, instant pot cooking, working with Dachshund rescues and spending time with family and friends.
Benjamin Giertych – University of Wisconsi
Enjoys - Residential Restoration (House Repair/"Flipping"), Woodworking
Cooking, Precision Shooting and Reloading, Reading Fiction
Team Athletics:
- Rugby - Collegiate, Team Captain and Officer
- Volleyball - Collegiate and Medical School Intramurals, Social League
Michael Niemann – West Virginia University
Enjoys - Running: Completed five marathons since starting medical school. Music: Plays piano and guitar. Find his band on Spotify (The Cherry Street Band). Mountain biking: Ridden on four continents.
Cooking: Once won a grilled cheese cookoff. Photography: Landscape, wildlife, action. Hiking/Backpacking. Mountaineering: Climbed to 21,122 ft. Whitewater: Kayaking, rafting, and unintentionally swimming. Rock climbing: Bouldering, sport, trad