WVU School of Medicine Gold Humanism Honor Society earns top ranking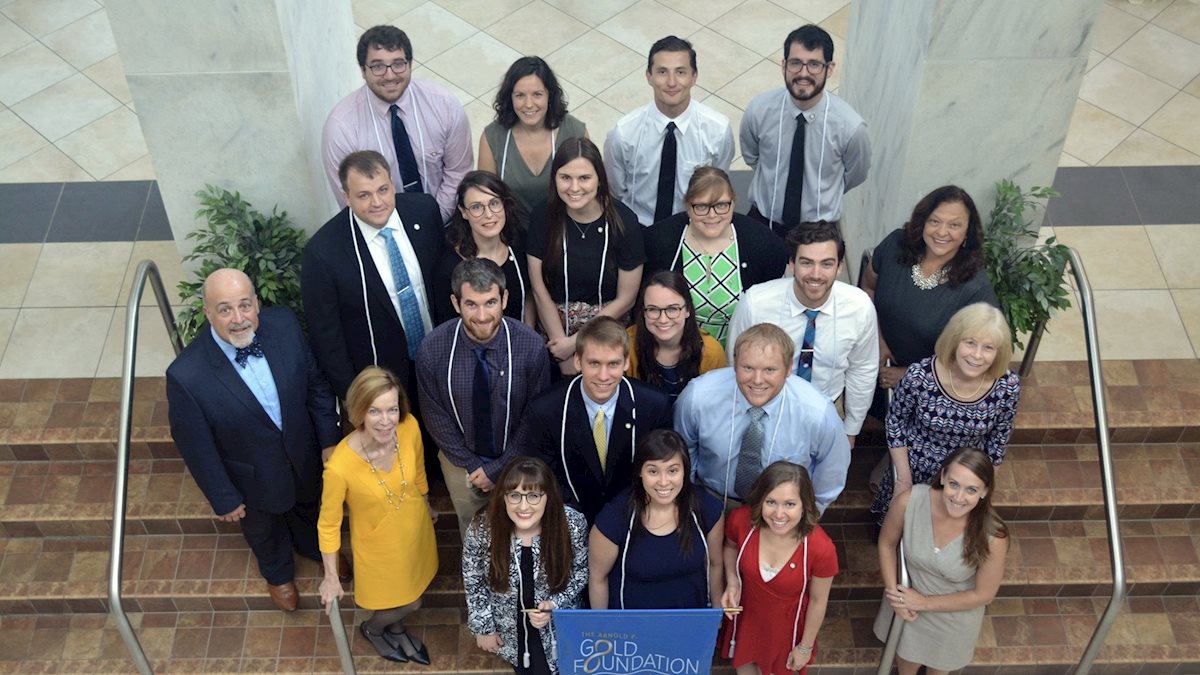 West Virginia University's Gold Humanism Honor Society has received the Arnold P. Gold Foundation's highest ranking for the chapter's dedication to service, learning and advocacy.
The 'Exemplary' chapter ranking recognizes the School of Medicine's GHHS medical students' contributions to events, activities and programs that increase engagement and empathy with the diverse patient community they serve.
GHHS is a national honor society that honors senior medical students, residents, physician teachers and others recognized for demonstrated excellence in clinical care, leadership, compassion and dedication to service. It was created by the Arnold P. Gold Foundation for Humanism in Medicine.
"It is never a surprise to learn when a peer, resident or physician you've worked alongside is a member of GHHS," Sarah Lazur, fourth-year medical student and outgoing chapter president, said. "They're individuals who see the patient as a human being with a story --the one you'd feel comfortable taking care of a loved one of your own.
They personify the values of integrity, compassion, altruism, excellence, respect and empathy, and remind us that practicing medicine with these values at the forefront will result in higher quality, more humanistic medical care."
According to Kathleen Bors, M.D., assistant dean of Student Services for the School of Medicine's Charleston division, GHHS encourages clinician resilience and team building, and teaches advocacy and leadership skills that are critical for today's clinicians.
"Our WVU Gold Humanism members are chosen by their peers as models of competence, compassion and service," Dr. Bors said. "Each of these students, residents and faculty inspires us to be the best versions of ourselves in our daily shared work, caring for our patients and each other. Humanism is the art of medicine that reminds us: each day as a physician is a privilege."
Matthew Epperly, a third-year medical student and the incoming chapter president, says that being inducted into GHHS during the COVID-19 pandemic has helped further solidify the importance of the society's mission.
"There are always people that are in need -- whether it be the need for quality healthcare, the everyday necessities, or even just a compassionate ear to hear their troubles," Epperly said. "I am still new to this organization but it has already offered me a new perspective on the things that are truly important for people and for the field of medicine."
WVU's chapter was granted its charter in December 2008.
"Our students have been very creative with their projects and community outreach," Norman Ferrari, M.D., vice dean for Medical Education and Academic Affairs, said. "They sponsor an annual education series in February on various aspects of providing humanistic care to our patients. We are so proud to have them recognized at the national level for their work."
For more information on GHHS, contact M.D. Student Services.