WVCTSI names five new Research Scholars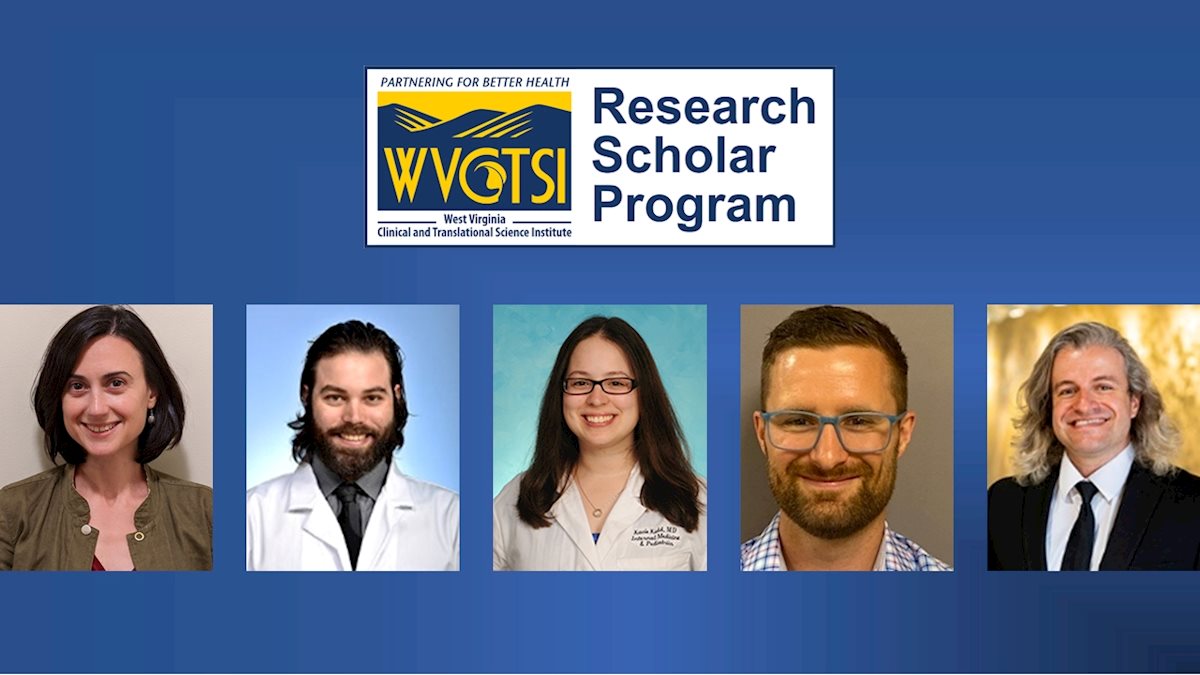 Five clinical and translational researchers from across West Virginia University have been named Research Scholars by the West Virginia Clinical and Translational Science Institute (WVCTSI). These investigators have diverse research interests that cover the full clinical and translational science spectrum. Selected scholars, their departmental affiliations, and project titles are as follows:
Mariya Cherkasova, Ph.D, assistant professor in WVU's Department of Psychology, "Circuit mechanisms of the anti-craving effects of high-frequency repetitive transcranial magnetic stimulation of the dorsolateral prefrontal cortex."
Bradley End, M.D., assistant professor in WVU's Department of Emergency Medicine, "Emergency Department Based Management of Tobacco Use Disorder."
Kacie Kidd, M.D., assistant professor in WVU's Department of Pediatrics, "Development & Feasibility Trial of Online Peer Review Support for Parents of Gender Diverse Youth."
Tyler Quinn, Ph.D., assistant professor in WVU's Department of Epidemiology and Biostatistics, "Development and Feasibility of Comprehensive Occupational Physical Activity."
David Scarisbrick, Ph.D., assistant professor in WVU's Departments of Behavioral Medicine & Psychiatry and Neuroscience, "Cortical Morphology in Parkinson's disease and Cognitive Decline."
The WVCTSI Research Scholar Program was created to accelerate and enhance the development of early stage investigators. Research Scholars receive funding and protected time to conduct their research, focus on professional development, and participate in a variety of mentored research experiences. At the conclusion of the Research Scholars' experience, it is expected that preliminary data for future external funding opportunities will have been generated.
Dr. Joan Lakoski, co-director of the Research Scholar Program considers "that the impact of a team of experienced mentors available to guide the research success for each Research Scholar is a unique and a vital aspect of this successful academic research career building program offered by the WVCTSI".
Dr. Courtney DeVries, co-director of the Research Scholar Program, added "We are thrilled to begin working with this new Research Scholar cohort to nurture professional and scientific development in a supportive, yet rigorous, environment"
This is the sixth cohort of WVCTSI Research Scholars to date. These five investigators join 23 others who have been supported as Research Scholars over the past several years.
"The Research Scholars' Program is a signature program of the WVCTSI Professional Development Core with many past Research Scholars having successfully received external funding to further their research," Dr. Sally Hodder, WVCTSI director states. "I look forward to the accomplishments and contributions to science from the members of this outstanding group of early-stage investigators."
WVCTSI Background
WVCTSI is funded by an IDeA Clinical and Translational grant from the National Institute of General Medical Sciences (U54GM104942) to support the mission of building clinical and translational research infrastructure and capacity to impact health disparities in West Virginia.