WVU School of Medicine plans to launch new respiratory therapy program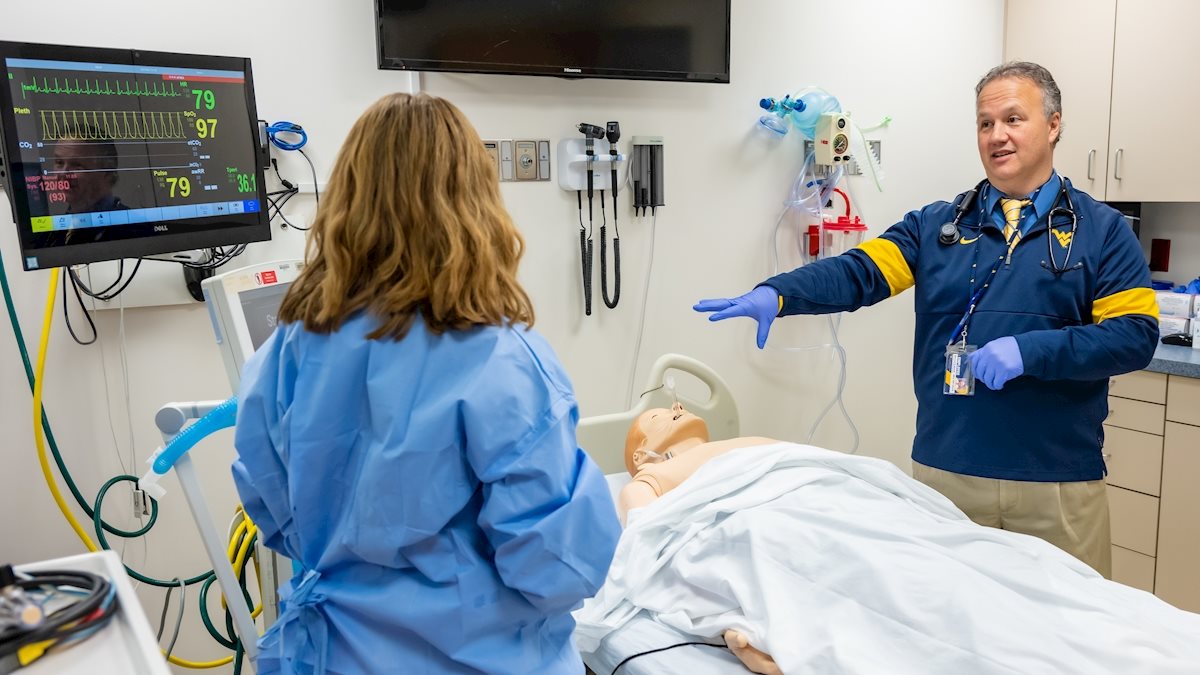 Respiratory therapists are in high demand, and the West Virginia University School of Medicine is planning to launch a new respiratory therapy bachelor's degree program in an effort to not only give students career options but also support and grow critical respiratory services throughout West Virginia and beyond.
"Hospitals nationally are having trouble filling critical respiratory therapy positions, and West Virginia has an increasingly high demand in particular," Michael Mehall, M.Ed., RRT, RRT-NPS, RRT-ACCS, CPFT, the program's founding director, explained. "This program is vital and meets our University's land-grant mission to serve our state while producing compassionate and competent professionals who are equipped to be a critical part of the overall healthcare team."
Respiratory therapists work under the direction of doctors to treat a wide range of patients who have difficulties breathing in a variety of inpatient or outpatient settings. The U.S. Bureau of Labor Statistics estimated that employment of respiratory therapists is projected to grow 14% within the next 10 years.
WVU's program is uniquely positioned to provide clinical rotation opportunities through WVU Medicine and other clinical partners, one of the strengths Mehall wants to draw on while laying the foundation to build and implement a dynamic program.
The program will be the only program of its kind in the northern part of the state and plans to enroll a cohort of 16 students initially in the fall semester of 2024 with the possibility of future expansion.
"This is a perfect career track for those seeking opportunity in a medical profession with versatility," Mehall said. "The program will provide students with an excellent educational foundation offering advanced practice facilities, renowned clinical partners and experienced faculty."
Students will work closely with WVU Medicine providers during their training. WVU Medicine, the university's academic medical center partner, has played an integral role in providing support to establish the program.
The hope is that this close working relationship will ultimately help WVU Medicine meet a critical workforce need, according to Mary Beth Mandich, Ph.D., P.T., vice dean for Professional and Undergraduate Programs, said.
"The University is committed to providing educational opportunities that support the health care needs of the state and beyond," Mandich said. "The School of Medicine is happy to respond to this workforce need and appreciates the support of WVU Medicine. We are very fortunate to have an experienced leader in Dr. Mehall at the helm."
Mehall joined the School of Medicine in 2022 and has more than 25 years of experience as a professional and educator. He brings experience in program development to the role, serving as a previous founding program director at Carlow University.
He earned a bachelor's degree in respiratory science from Wheeling Jesuit University in 1995 and a master's of science degree in education from American Intercontinental University in 2010. He is a registered respiratory therapist, adult critical care specialist, neonatal/pediatric specialist and certified pulmonary function technologist.
To learn more about the programs being offered at the WVU School of Medicine, visit medicine.wvu.edu.
The Respiratory Therapy Program at West Virginia University is currently in the process of seeking Commission on Accreditation for Respiratory Care (CoARC) accreditation and can provide no assurances accreditation will be granted by CoARC. Therefore, you may apply to the respiratory therapy program, but enrollment is contingent upon CoARC granting Provisional Accreditation.
-WVU-
cat 2/13/23
MEDIA CONTACT: Cassie Thomas
Director, Communications and Marketing
WVU School of Medicine
304-293-3412; cassie.thomas@hsc.wvu.edu