Prep Time: 
Cooking Time: 
Ingredients
2 cup slices raw apples with skin

1/4 cup Peanut butter, smooth style, without salt

1/4 cup Hershey's - Special Dark Chocolate Chips

1/4 cup slivered almonds

1 tsp ground 

cinnamon
Instructions
Wash and slice apples however you prefer.

Microwave nut butter for about 20-30 seconds.

On a serving plate, lay your apple slices in a single layer around the outside edge.

Then layer another small layer over those but towards the inside center of the plate (like shown in the picture above).

Drizzle the nut butter in a circular motion, from the middle of the plate to the outside edge.

Top with chocolate chips, almonds, and sprinkle of cinnamon (or whatever you've chosen to use as your toppings).
Nutrition Facts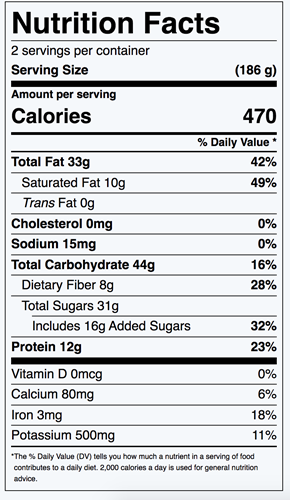 Number of Servings Per Container: 2
Serving Size: 186g
Calories: 470
Total Fat: 33g, 42%

Saturated Fat: 10g, 49%
Trans Fat: 0g

Cholesterol: 0mg, 0%
Sodium: 15mg, 0%
Total Carbohydrate: 44g, 16%

Dietary Fiber: 8g, 28%
Total Sugars: 31g

Protein: 12g, 23%
Vitamin D: 0mcg, 0%
Calcium: 80mcg, 6%
Iron: 3mg, 18%
Potassium: 500mg, 11%