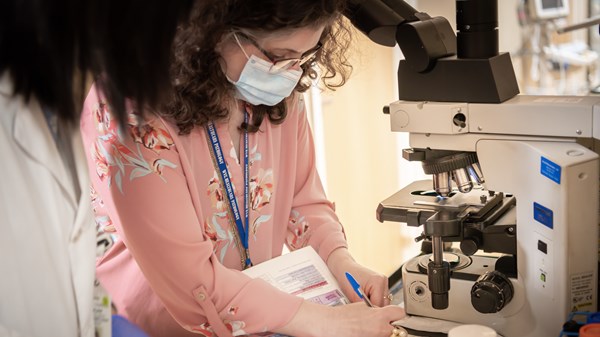 Cytopathology Fellowship Programs
Cytopathology is a field in which cells from various body sites are examined microscopically to determine the cause or nature of disease. During this one year fellowship, the Fellows learn diagnostic criteria, laboratory methods and techniques for gynecologic and non-gynecologic cytopathology. Fellows are involved in cases from all body sites and become proficient at integrating clinical history with morphologic findings. Fellows become proficient at the rapid on-site evaluation of intraprocedural specimens such as endobronchial ultrasound (EBUS) and endoscopic ultrasound (EUS) of the pancreas. Fellows also participate in performing fine needle aspirations of superficial body sites in conjunction with clinicians. The program provides training in ancillary studies such as flow cytometry, immunohistochemistry, and molecular studies, and the fellow spends time in the cytopathology laboratory to understand common preparatory techniques. In addition to a strong focus on clinical cytopathology, the Program provides the Fellows with exposure to scholarly clinical research.
Requirements
Applicant should be board eligible in Anatomic Pathology or Anatomic and Clinical Pathology, and must obtain a West Virginia state license before admission into the program.
Stipends
Commensurate with level of training.
Applications
Applications should contain the following:
National Standard Application (CAP)
Statement of career objectives
Three letters of recommendation (one from current program director)
Medical School Diploma
ECFMG Certificate
USMLE Scores
We are participating in the American Society of Cytopathology (ASC) unified recruitment timeline for cytopathology fellowship programs for the 2023-2024 fellowship year starting on July 1, 2025, as follows:
Applications will be accepted July 1 through September 30, 2023
Interviews will be offered August 15 through November 30, 2023
Offers will start being extended: October 1, 2023
Please Submit Applications to:
Andrea Pyles
Pathology Residency Program Manager
Department of Pathology
Robert C. Byrd Health Sciences of
West Virginia University
PO Box 9203
Morgantown, WV 26506
andrea.pyles@hsc.wvu.edu
If you have any questions about the program please contact:
Reima El Naili, MD
Director of Cytopathology Fellowship
Department of Pathology
Robert C. Byrd Health Sciences of
West Virginia University
PO Box 9203
Morgantown, WV 26506
reima.naili@hsc.wvu.edu
Mountaineers know West Virginia University
is special.
See cases you want to see, learn from mentors and contribute to your specialty through research. It's all part of perfecting your skills as a clinician and advancing your career with our fellowship training.
We know that can be demanding, so as you train, we have programs, facilities and amenities to help sustain your growth, on and off the clock.