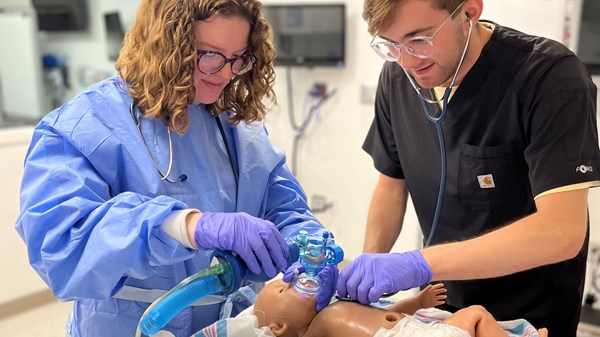 Help patients breathe easier.
Respiratory therapists manage patients with various cardiopulmonary disorders, promoting optimal patient outcomes as part of an interprofessional care team.
Respiratory therapy is a diverse, rewarding, and in-demand medical field, with a particularly high demand in the state of West Virginia due to a growing community with respiratory disorders and rapid expansion of healthcare organizations.
The Bachelor of Science in Respiratory Therapy (BSRT) program at West Virginia University will offer a robust curriculum, taught by faculty with extensive practical experience in the field. The program will comprehensively prepare students to be competent providers in all areas of respiratory therapy, including general practice, critical care, neonatal/pediatrics, sleep medicine, outpatient diagnostics, and more. Students will also graduate prepared to pursue leadership positions, or to work in research or patient education.
The program is located on the WVU Health Sciences Campus, giving students access to accomplished faculty, groundbreaking research, and opportunities to collaborate with peers across different areas of study. The curriculum includes hands-on, clinical opportunities with partners in the state's largest health system, WVU Medicine.
Who You Are
Respiratory therapists are passionate caregivers who improve the lives of those they serve. They are valued, knowledgeable, and skilled members of the interprofessional patient care team. Respiratory professionals assist in the diagnosis, prognosis, and treatment of patients and perform specialized work to target the improvement of breathing difficulties. They provide care to patients of all ages in a variety of work environments, which leads to excellent career opportunities.
The Bachelor of Science in Respiratory Therapy (BSRT) program at WVU will provide students the opportunity to learn in a small cohort with individualized attention from program faculty. Students will be instructed and mentored by professors and clinical partners with extensive experience in the field of respiratory medicine. They will participate in clinical rotations at facilities associated with our program partner, the multi-state WVU Medicine system, allowing them to naturally develop clinical competency and leadership skills prior to graduation.
Facts
One of two

BSRT programs in West Virginia
Located on the

Health Sciences Campus,

steps from WVU Medicine flagship Ruby Memorial Hospital
What You'll Do
Respiratory therapists are a critical part of the interprofessional patient management team, working with physicians and other care providers to support optimal patient outcomes. They are versatile clinicians who perform a wide range of services, including: 
Delivery of therapeutics to neonatal, pediatric, and adult populations
Patient transportation
Hemodynamic and critical care monitoring of patients
Adjustment of treatment modalities based on assessment of patients
Delivery of specialized pulmonary diagnostic testing within acute and outpatient areas
Ventilator management
Sleep studies
Regardless of their area of specialization, respiratory therapists must demonstrate leadership, communication, and professional competency in the management of high-risk patient scenarios. 
The median salary for a respiratory therapist is $61,830, with available positions expected to grow 14% within the next 10 years. 
Connect with Us
Stay connected with what's happening at the School of Medicine.
Accreditation
The Respiratory Therapy Program at West Virginia University (CoARC # 200661) is currently in the process of seeking Commission on Accreditation for Respiratory Care (CoARC) accreditation and can provide no assurances accreditation will be granted by CoARC.  Therefore, you may apply to the respiratory therapy program, but enrollment is contingent upon CoARC granting Provisional Accreditation.
More information is available via our accreditation page.