Adult Cardiothoracic Anesthesiology Fellowship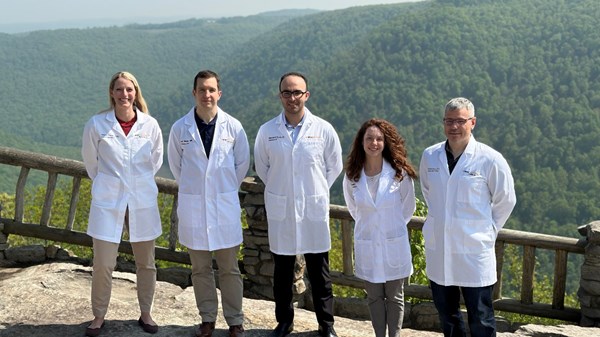 Our Adult Cardiothoracic Anesthesiology (ACTA) Fellowship was approved by the ACGME in April 2020, and our first 2 fellows began training July 2020. Our 1-year fellowship accepts anesthesia residents who have completed an accredited anesthesiology residency program.
WVU Ruby Memorial Hospital serves as a tertiary referral center for patients throughout the state and the surrounding area (i.e., Maryland, Pennsylvania, Ohio). Our Division of Cardiovascular and Thoracic Anesthesiology is housed in the newly constructed (2017) WVU Heart and Vascular Institute. We have an experienced nationally- and internationally-renowned team of surgeons performing off-pump coronary artery bypass grafting, valve surgery, extracorporeal membrane oxygenation, ventricular assist device placement, and heart transplantation. We have a fast-paced, minimally invasive, robotic case volume featuring mitral valve repair, minimally invasive direct coronary artery bypass, and recently aortic valve replacement. The equally busy cardiology service offers electrophysiology, transcatheter aortic valve replacement, and MitraClip experience.
We are committed to building a fellowship training program that produces proficient, thoughtful cardiac anesthesiologists who are competent in both the anesthetic management of critically ill adult cardiothoracic patients and advanced perioperative transesophageal echocardiography (TEE). The comprehensive research infrastructure established in the institute has resulted in over 150 peer-reviewed publications over the last 18 months. Graduates will be well-prepared for adult cardiac practice, high-acuity generalist practice, the advanced PTEeXAM, and the ABA cardiac anesthesiology exam.
Our faculty have trained at multiple, reputable institutions throughout the country including Cleveland Clinic, Mayo Clinic, Cornell University, Mount Sinai, Allegheny General Hospital, Wake Forest, Johns Hopkins, University of Kentucky, and West Virginia University. We each offer a unique perspective on the provision of intraoperative cardiac anesthesia and TEE – ideal for a trainee seeking to tailor fellowship training to better suit his or her attributes and practice style. Our group is an amicable, close-knit group of anesthesiologists, residents, nurse anesthetists, and anesthesia technicians working within a family-like atmosphere. West Virginia is an excellent place to enjoy new experiences and the "wild and wonderful" outdoors.
Thank you for visiting our website to gain a better understanding of our fellowship. In addition to our Department and ACTA Fellowship website pages, I encourage you to also explore the following additional website pages:
WVU Department of Cardiovascular and Thoracic Surgery
WVU Heart and Vascular Institute Website
Sincerely,
Heather K. Hayanga, MD, MPH, FASE, FASA
Co-Director, Cardiac Anesthesia Education and Clinical Research
Heart and Vascular Institute
Director, Adult Cardiothoracic Anesthesiology Fellowship
Associate Professor
Division of Cardiovascular and Thoracic Anesthesiology
Department of Anesthesiology
West Virginia University
Mountaineers know West Virginia University
is special.
See cases you want to see, learn from mentors and contribute to your specialty through research. It's all part of perfecting your skills as a clinician and advancing your career with our fellowship training.
We know that can be demanding, so as you train, we have programs, facilities and amenities to help sustain your growth, on and off the clock.