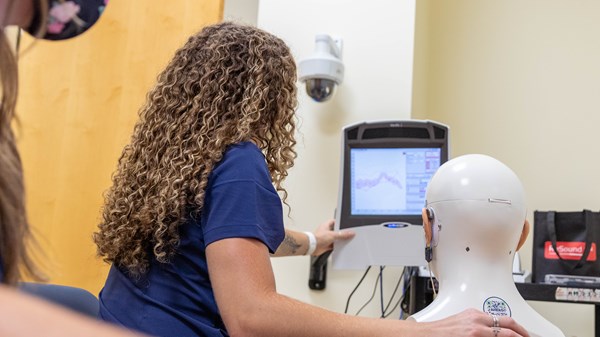 Our full-time, three-year AuD program offers an intentional, relevant, and comprehensive curriculum to provide future audiologists with the knowledge and skills needed to independently practice the full scope of audiology as caring and competent members of the profession.
The plan of study begins in the summer and takes place over nine semesters. Students will complete 62 credits of coursework (including seven credits of a culminating project) and 36 credits of clinical enrollment. Courses enhance students' learning with the use of team-, problem-, and research-based and experiential activities.
Students will start their practical/clinical experiences at the onset of the program. During the first two years, clinical activities will occur in courses, in the STEPS lab, with standardized patients, in our new clinic, and in local and regional clinical settings. The final year clinical experience may be completed outside of the Morgantown area.