Palliative Medicine and Hospice Fellowship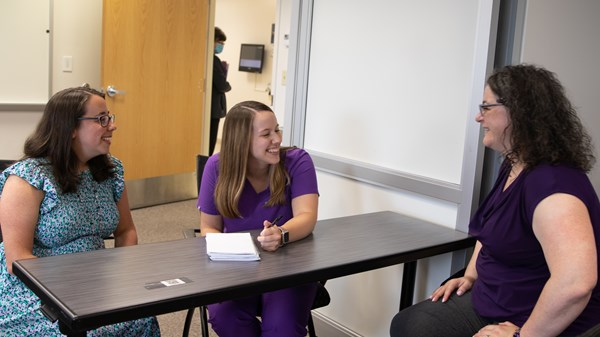 Thank you for your interest in the Hospice and Palliative Medicine Fellowship at WVU!
Our mission is to train and support clinicians to become outstanding leaders in service, education, and research in the field of palliative medicine. The Hospice and Palliative Medicine Fellowship Program aims to provide excellent clinical education, research education, mentorship, and access to a variety of practice settings for the fellows.
Our program is unique in several ways, and as a result provides a unique and rich training opportunity. West Virginia is the only state that resides entirely within the Appalachian region. The state's population of approximately 1.8 million is exceedingly rural with a growing elderly population, poor socioeconomic status, and low educational attainment. The need for palliative medicine in this population is great.
At the same time, the primary teaching site is West Virginia University Hospital, a 690 bed state of the art facility. WVUH is a quaternary referral center for West Virginia and also provides care for patients from western Maryland and southwestern Pennsylvania. Services at WVUH include two MICU services, a Neurocritical Care service, Trauma/Surgical ICU, a Bone Marrow Transplant Unit, and Cardiovascular ICU. The Palliative Medicine service works closely with clinical teams to help care for patients with Left Ventricular Assist Devices (LVADs), heart transplants, and patients undergoing Extracorporeal Membrane Oxygenation (ECMO). Our inpatient hospice service cares for patients with a depth and breadth of diseases with comprehensive interdisciplinary care. Faculty at the Ambulatory Palliative Medicine Clinic at the Mary Babb Randolph Cancer Center work closely with the High Risk Behavioral Medicine, Psychology, and Interventional Pain Management teams to care for patients. In addition to the Ambulatory Palliative Medicine clinic at the Cancer Center, Ambulatory Palliative Medicine is provided in the cardiology and hepatology clinic, and our ambulatory footprint continues to grow.
Morgantown is consistently ranked among the "best small cities to live." Outdoor activities include skiing, hiking, boating, rock climbing, mountain biking, and so much more. There is a diverse offering of cultural, dining and entertainment opportunities. It is also an ideal place to raise a family with affordable housing and an excellent school system. We are only a one-hour drive to Pittsburgh and just over 3 hours from Baltimore/Washington DC area.
However, what you will find as the best part about working and living in Morgantown is the people. Faculty, fellows, residents and all other healthcare members work as a team with utmost professionalism. When you visit our program, you will find a warm, welcoming, and safe environment that is favorable to forming long-term friendships with faculty and fellows. We are committed to providing the supportive environment that fellows need to explore, learn, and grow in this field.
Welcome, please look around, and learn about the possibilities in Wild, Wonderful West Virginia!
Mountaineers know West Virginia University
is special.
See cases you want to see, learn from mentors and contribute to your specialty through research. It's all part of perfecting your skills as a clinician and advancing your career with our fellowship training.
We know that can be demanding, so as you train, we have programs, facilities and amenities to help sustain your growth, on and off the clock.