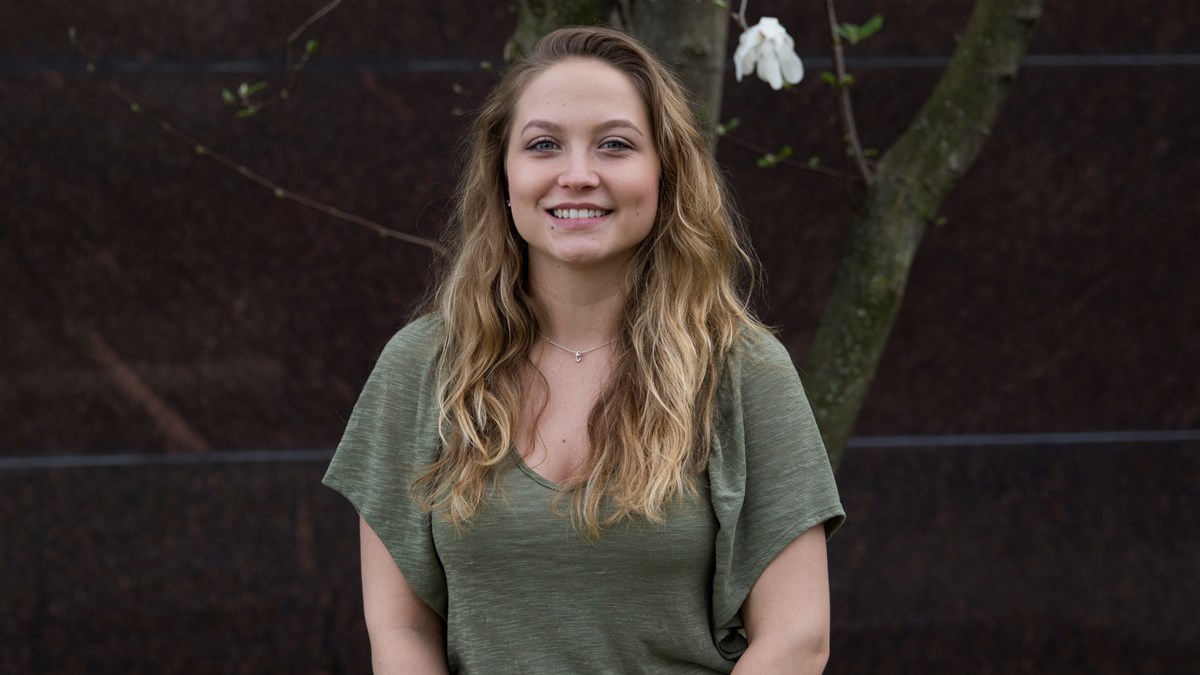 Hometown:

Markleysburg, Pa.

Undergraduate Degree:

Exercise Physiology '19, West Virginia University
What led you to decide to get your degrees from WVU?
I wanted to get my degree from WVU because I would get to be really close to my family's hometown of Markleysburg, Pa., but far enough away that it was somewhere new for me.
How did you choose exercise physiology?
I knew I wanted to be a physical therapist since I was 12. In my hometown, I shadowed a physical therapist who suggested that I major in exercise physiology because it would best prepare me for the doctorate of Physical Therapy program.
What made you want to be a physical therapist?
A close family friend said that receiving physical treatment completely changed her life for the better. She went from being miserable, in constant pain and crying all the time, to being able to truly live her life. It was eye-opening to personally see the difference the profession can make in peoples' lives. After that, I knew I wanted to do the same. I was just amazed at how simple lifestyle changes like staying active, and in tune with your body can impact your quality of life immensely.
Did you have any unique experiences before medical school?
I was fortunate enough to be able to go to Brazil for a short study abroad trip through Amazade. We saw many different medical settings there. We traveled on a boat for a few days to observe medical care in smaller villages throughout the country that do not have easy access to health care year-round. I even got to talk to a physical therapist from WVU who practiced in Brazil for a little while. Mountaineers are everywhere!
What is next after completing your doctorate?
 I hope to find a job here in Morgantown. I have fallen in love with West Virginia and plan to stay in the area after the doctoral program. 
What activities do you enjoy doing?
One of my biggest passions is horses. I am on the WVU Equestrian Team and enjoy barrel racing and trail riding. Horse racing is a great way to relieve stress and be my self. Riding horses and barrel racing is where I have acquired many of my best qualities, such as determination and drive. Thanks to my experience competing with horses I have been able to learn from my own mistakes and see just how satisfying it is to have your hard work pay off. If I have a stressful week it is nice to be able to go home and decompress with the horses-- they help me calm down and put everything into perspective.
How do you balance school and personal interests?
Making sure that I do not overwork myself is one thing that I have paid a lot of attention to these past couple of years. Staying organized by writing down assignments and exams, as well as planning out how long I need to allow myself to study, allowed me to continue Barrel racing throughout my four years of undergrad, I also worked part-time. I always made sure to have my class work done before making plans to go work with my horses or agreeing to pick up more shifts at work. Many times I had to skip riding for a few days when exams were around the corner. To make up for that lost time I would stay out later or get up earlier-- but school always came first. By planning ahead I was able to make it to most of my races as well as compete on the Western Equestrian Team here at WVU! 
What are your goals in physical therapy?
My goals in physical therapy are to learn as much as I can and always keep an open mind to new practices and techniques. I hope to be able to help others help themselves while continuing to learn more and more each day. 
What would you tell a student that is going into physical therapy?
I would tell them to know what you want to do after undergrad. Exercise physiology is a gateway to so many different professions and practices -- from dentistry, physical therapy, and becoming a doctor. I see my peers continue on to different paths constantly.
What would you tell your supporters?
My friends and family have been supportive throughout my undergrad, adjusting to my schedule and allowing me to have my study time. I greatly appreciate their support and willingness to change with me!