The innovative Master of Occupational Therapy (MOT) program at WVU is a 2+3 program allowing students to achieve an entry-level professional degree in just 4.5 years. Students apply to the program in their sophomore year and begin OT education their junior year, completing both a bachelor's and master's degree. Our unique curriculum employs active and experiential learning to prepare students for the rapidly changing practice arena. 
For students entering West Virginia University as a Freshman, the recommended degree for admission is Exercise Physiology. It will contain all of the pre-requisite courses needed to enter the occupational therapy master's degree program as an undergraduate junior. However, applications from other degree programs are considered and encouraged as long as all MOT prerequisite courses are completed. For students applying to the WVU MOT Program from other institutions, students must complete a minimum of two years at an accredited post-secondary institution and have all prerequisite coursework completed prior to starting the MOT Program.
For all applicants: To ensure students who are accepted into the program are prepared to begin, 75% of prerequisite coursework must be completed or in progress at the time of application.
The MOT program will remain competitive and a limited number of students (20 per year) will be admitted. Applicants will be required to complete volunteer hours, submit letters of recommendation and, if selected, interview for one of the spots in the class.
WVU's Master of Occupational Therapy Program is accredited by the Accreditation Council for Occupational Therapy Education (ACOTE) of the American Occupational Therapy Association (AOTA), located at 6116 EXECUTIVE BOULEVARD, SUITE 200, NORTH BETHESDA MARYLAND 20852-4929. ACOTE's telephone number c/o AOTA is (301) 652-AOTA and its web address is www.acoteonline.org. The OT Program at WVU was awarded re-accreditation in 2013. The next scheduled onsite visit for accreditation will be in 2023-2024. More information about accreditation can also be found at the AOTA website: http://www.aota.org. Graduates of the MOT program are eligible to sit for the national certification examination for the occupational therapist administered by the National Board for Certification in Occupational Therapy (NBCOT). After successful completion of this exam, the individual will be an Occupational Therapist, Registered (OTR). In addition, all states require licensure in order to practice; however, state licenses are usually based on the results of the NBCOT Certification Examination. Note that a felony conviction may affect a graduate's ability to sit for the NBCOT certification examination or attain state licensure.
Credit for Previous Coursework / Work Experience: Due to the sequential nature and learning goals of the MOT curriculum, all students admitted to the MOT Program will be required to complete the full curriculum. The West Virginia University MOT Program will not give credit for occupational therapy coursework completed at any other university toward the MOT degree. Transfer credit will only be considered for undergraduate prerequisite coursework. The Program will also not give credit for any work experience toward the MOT degree.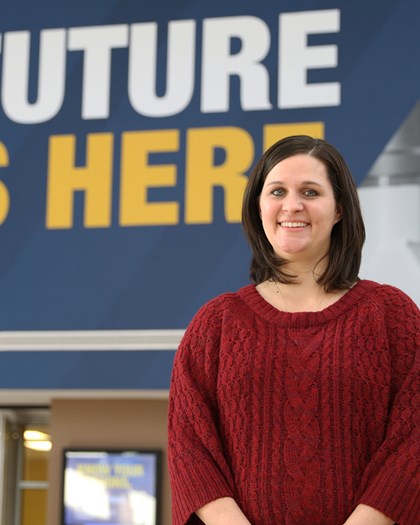 Amy Burt
Occupational Therapy
"It is really important for me to know all of my students' names and hear their stories because I make that connection that helps me provide better support for them to succeed."