In response to the rapidly changing environment in Occupational Therapy, the WVU Division of Occupational Therapy plans to continue the current Masters' degree program in it's 2+3 format. However, to support the integration of the OTD and MOT programs, the Master's degree curriculum will undergo significant revisions consistent with educational requirements established by the Accreditation Council for Occupational Therapy Education (ACOTE).
For students entering West Virginia University as a Freshman, the recommended degree for admission is Exercise Physiology. It will contain all of the pre-requisite courses needed to enter the occupational therapy master's degree program as an undergraduate junior. However, applications from other degree programs are considered and encouraged as long as all MOT prerequisite courses are completed. For students applying to the WVU MOT Program from other institutions, students must complete a minimum of two years at an accredited post-secondary institution and have all prerequisite coursework completed prior to starting the MOT Program.
For all applicants: To ensure students who are accepted into the program are prepared to begin, 75% of prerequisite coursework must be completed or in progress at the time of application.
The MOT program will remain competitive and a limited number of students (20 per year) will be admitted. Applicants will be required to complete volunteer hours, submit letters of recommendation and, if selected, interview for one of the spots in the class.
Credit for Previous Coursework / Work Experience: Due to the sequential nature and learning goals of the MOT curriculum, all students admitted to the MOT Program will be required to complete the full curriculum. The West Virginia University MOT Program will not give credit for occupational therapy coursework completed at any other university toward the MOT degree. Transfer credit will only be considered for undergraduate prerequisite coursework. The Program will also not give credit for any work experience toward the MOT degree.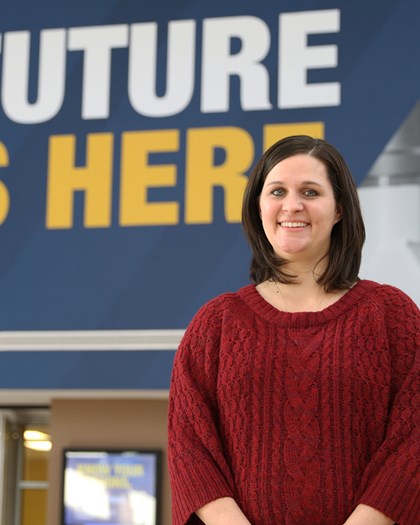 Amy Burt
Occupational Therapy
"It is really important for me to know all of my students' names and hear their stories because I make that connection that helps me provide better support for them to succeed."