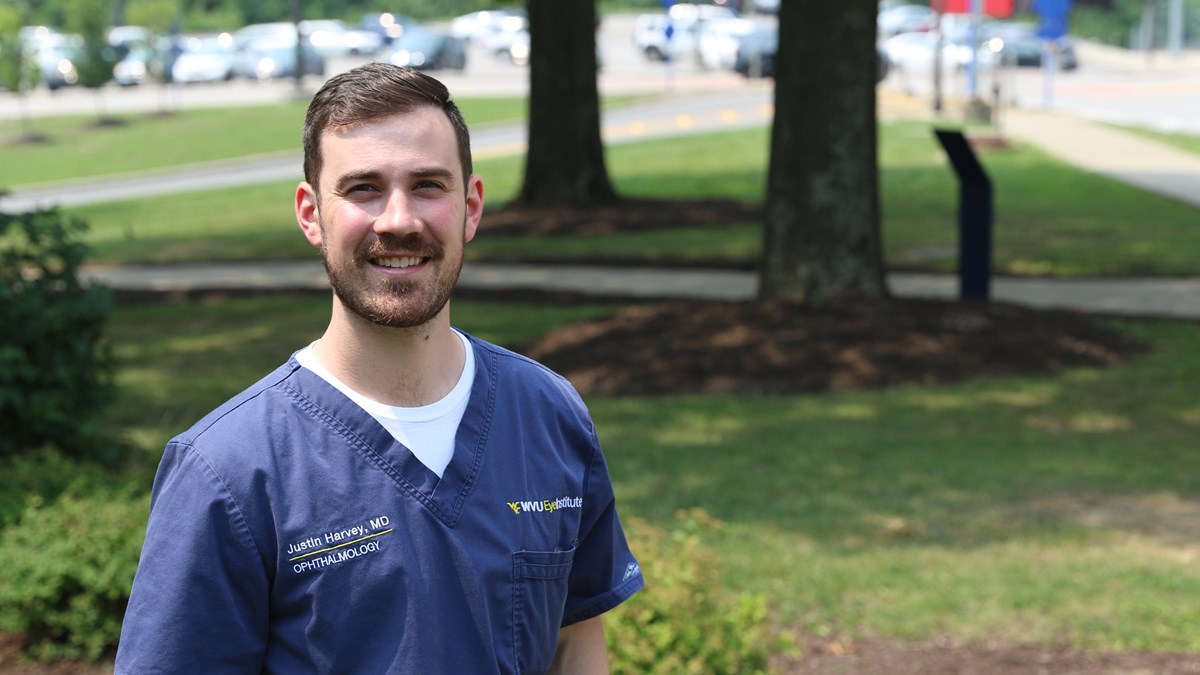 Hometown:

Greenville, WV
As a southern West Virginia native, Justin Harvey, M.D., said he can't ever see himself practicing ophthalmology far away from home.
Dr. Harvey has lived in West Virginia his whole life and has been at West Virginia University for more than 10 years since arriving as an undergraduate student. After getting his undergraduate and medical degree at WVU, Harvey is now a PGY-4 resident at the Department of Ophthalmology and Visual Sciences.
Harvey knew he wanted to be an ophthalmologist since he learned what refractive surgery entailed in the 7th grade, but he credits the program for affirming his passion for the field early on in his residency. He said that during his second month of residency, he was able to complete his first cataract surgery, which resulted in a moment he said he will never forget.
"When I finished it, I remember feeling this incredible feeling I had only felt a couple of times before in my life," Harvey said. "It was the same feeling I had when my two children were born, when I was married and when I hit my first home run in baseball. And I had that feeling again when I completed my first cataract surgery. It was that moment where I knew I was in the right place."
Harvey said he feels a deep connection with his patients as a state native. He said he often finds himself chatting with patients about hunting, farming or other activities native to his hometown in Monroe County.
Harvey sees patients from all over the state, including residents from rural areas who may not have access to regular eyecare. He said that having the opportunity to help so many people receive the care they may not have had the opportunity to receive before is one of the reasons he decided to stay at WVU for his training.
"Being in a position where I have the opportunity to help so many people in the state I've spent my whole life in is an incredible feeling," Harvey said.
Even though he is still a resident, Harvey has been involved with the ophthalmology program for nearly a decade since shadowing at the Eye Institute as an undergraduate student.
"I've been involved with the program for roughly 10 years, and I've never once thought the grass may be greener at another ophthalmology program. WVU is my home," Harvey said. "If I could go back and do it all again, I wouldn't do anything differently."