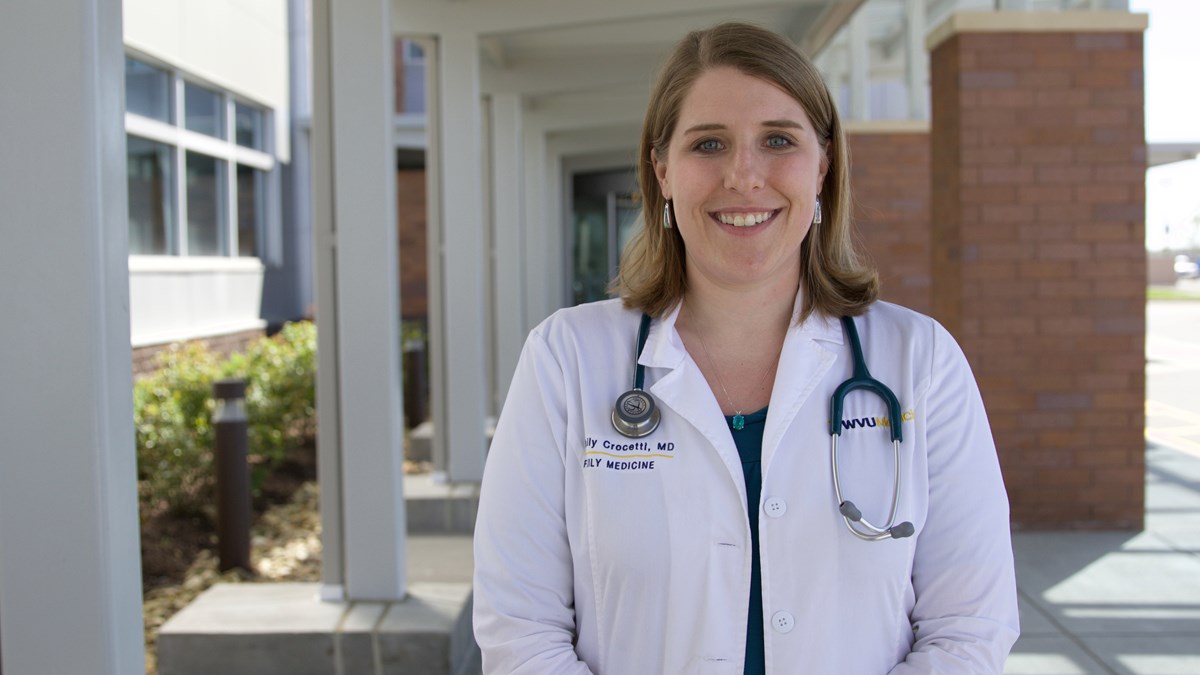 On land or at sea, West Virginia University second-year resident Emily Crocetti, M.D., knows that one of the most important skills she brings to the table is leadership.
As a member of the United States Navy and chief resident for the WVU Department of Family Medicine, Dr. Crocetti has learned that when it comes to being a leader, medicine and the military have more in common than one might think.
"In both paths there is a strong dedication to serve others and the community," Crocetti said. "You have to be a good problem solver, and do the most good you possibly can for the people who need it."
She attributes her time in the Navy and her years spent in medical school into shaping her into the diligent, hardworking, and virtuous person she is today. She carries that experience into her duties as a chief resident.
"You have to be a leader for your patients," Crocetti said. "Getting to the root of what's ailing a patient requires a strategy. As the doctor, you put all of the puzzle pieces together so your patient gets the best care possible."
Before joining the Navy and attending the WVU School of Medicine, Crocetti graduated from the University of Virginia with a bachelor's degree in biomedical engineering. After that she worked as a neurophysiologist, monitoring the nervous system of patients undergoing various surgeries.
"There was no epiphany," Crocetti said of her decision to leave the field and pursue a medical doctorate. "I gradually realized I wanted to be more involved in the decision making with the patients. I liked talking to them and I wanted to find a field where I could have those interactions and experiences."
While earning her M.D. degree, Crocetti applied for the Navy's Health Professions Scholarship Program. The program allowed her to travel for rotations. She traveled everywhere from Fort Belvoir in Fort Belvoir, VA., to the Naval Air Station in Jacksonville, Fl.
After going through military rotations, she ultimately decided to stay in the civilian sector for her residency program.
"WVU has a very strong Family Medicine residency program and it allows me to treat a complex patient population," Crocetti said. "So many smaller, private community programs send people away to larger institutions and being a part of WVU's system allows me to gain a multitude of clinical experiences and knowledge."