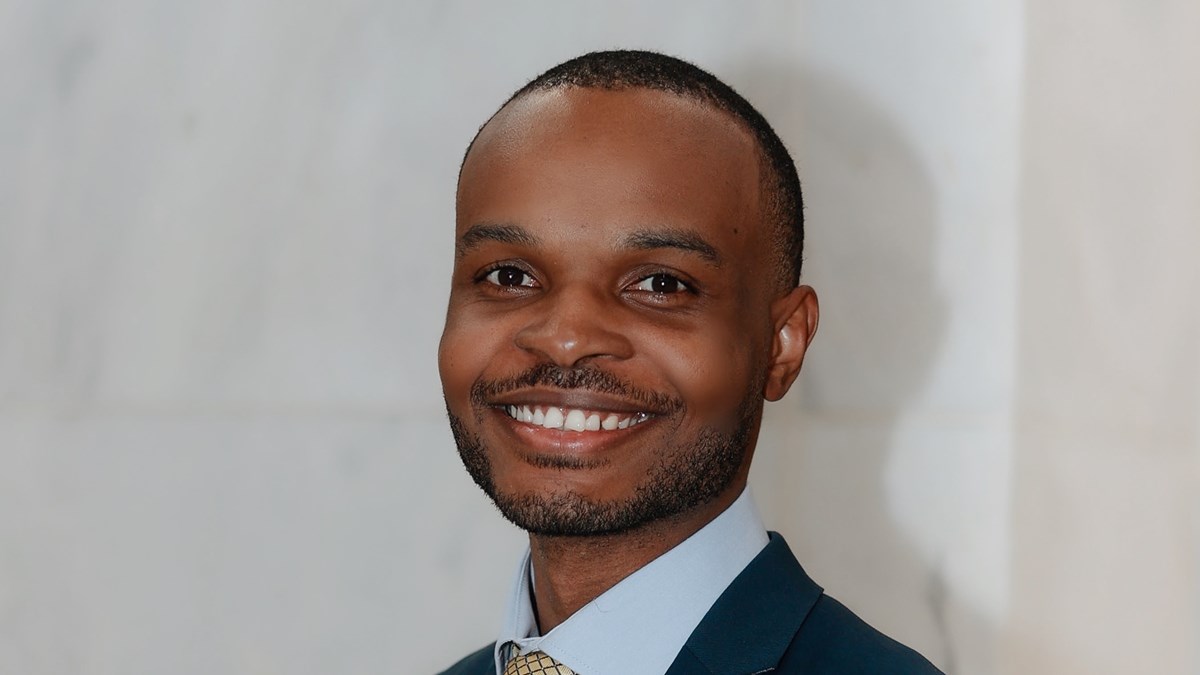 Hometown:

Lagos, Nigeria

Undergraduate Degree:

Biochemistry, West Virginia University

Residency:

Neurosurgery, University of Virginia
From selecting a university an ocean away from his hometown of Lagos, Nigeria, to diagnosing a patient in a rural West Virginia community, graduating West Virginia University School of Medicine student Divine Nwafor said it all boils down to instinct.
Nwafor, who will earn his M.D./Ph.D. degree on Friday, May 12, in Morgantown, knew from a young age that medicine was his calling, but his journey to the School of Medicine relied much more heavily on trusting his instincts.
"I chose WVU because the environment at this institution fosters growth," he said. "My mentors and faculty encouraged me to go other places, interact, communicate and network. That outside experience made me realize how much growth and development I've received from my home institution."
Nwafor drew on that support as he worked towards the competitive neurosurgery residency field after earning a dual M.D./Ph.D. degree. It was a path that felt daunting at times, but ultimately, advice from a mentor became his mantra.
"Put your best foot forward," he said. "There will be hard days in school, residency and practice, but nothing is impossible. Start by seeking understanding, be it of the research and science or the patients you're treating."
Nwafor said that understanding is what drove him to pursue the dual degree.
"I believe you need a strong understanding of research data to be able to apply it to patient care," he said. "I want to be able to take something from the bench to the bedside to really be able to help my patients."
He said that level of care is what he's witnessed from his mentors within the School of Medicine and at the Rockefeller Neuroscience Institute, noting Peter Konrad's influence.
"Dr. Konrad is a physician scientist who has struck that balance between aligning his research goals and patient care," explained Nwafor. "It's a difficult task, but with the right mentorship and people who have seen the frontiers of what you're trying to get to, they help ease that journey and illuminate the pathways to get there."
In addition to Konrad, he notes the mentorship of Candice Brown, Ph.D.; Cara Sedney, M.D.; and Randy Nelson, Ph.D. in particular.
"Having mentors to guide me through this path to neurosurgery have helped me to see that a strong research background is critical to patient care. Research allows us to delve into new ways of tackling problems for patients that were once unimaginable. The central nervous system is one of the most important structures in the human body, and the brain is a remarkable frontier."
During his time at WVU, he's felt not only like a learner but a valued member of the healthcare team.
"The School of Medicine is very collaborative. There's a spirit of ideation – people are willing to work with you and listen to your ideas. You can present an idea with a good rationale behind it and people are willing to help you actively develop an action plan."
He says the University has given him so much since he started here as an undergraduate student majoring in biochemistry in WVU's Davis College of Agriculture, Natural Resources and Design.
"Whether it was helping me with scholarships to take the burden off of tuition, or having your attending listen and value your input on a patient, WVU has made an impact on my life," he said.
Nwafor will be graduating this spring as the first black student to be awarded an M.D./Ph.D. dual degree at the School of Medicine. He also reports he's the first physician in his family and the first neurosurgeon trainee from his hometown. He was inspired to become a neurosurgeon by reading books authored by world-renowned pediatric neurosurgeon Dr. Benjamin Carson.
He hopes that his achievements at WVU will encourage prospective and current students of color to trust the University with their education and professional development.
Nwafor will begin his neurosurgery residency at the University of Virginia in Charlottesville this summer, but he says he won't forget his ties to WVU.
"There's belonging at this institution that when you leave, you feel as if you're leaving your true home," he said. "I really love this place and would be happy to come back here to practice."
For more information on the WVU School of Medicine, visit medicine.wvu.edu.