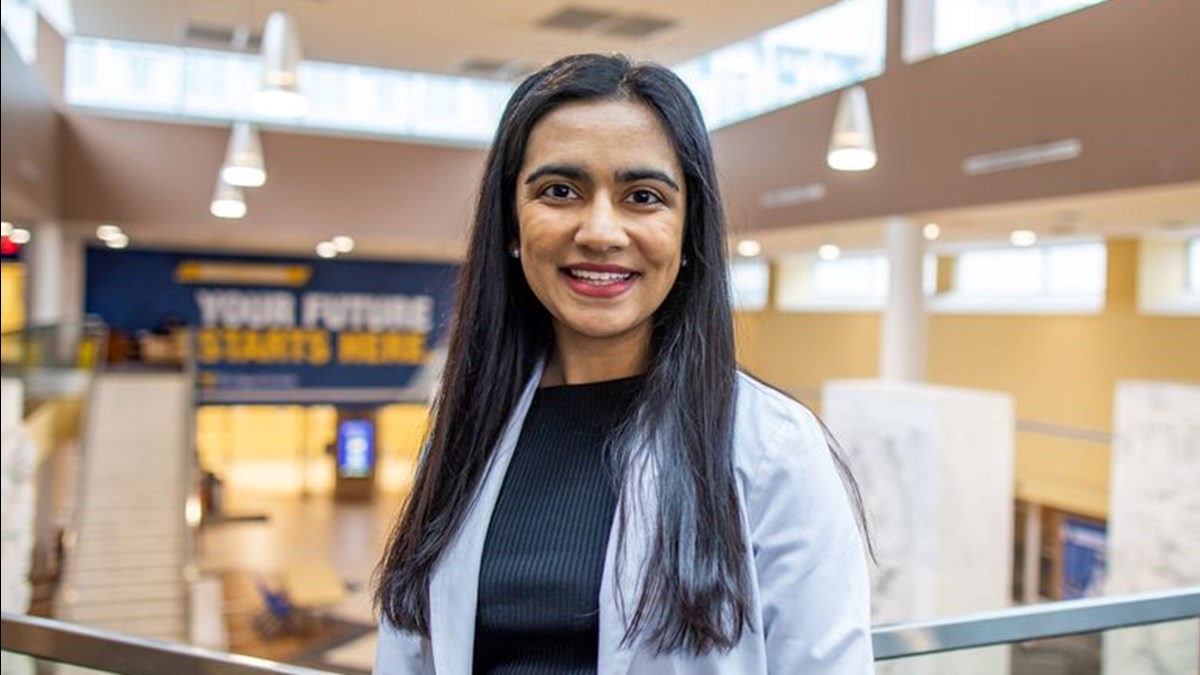 Hometown:

Bridgeport, WV

Undergraduate Degree:

BS Biology, Summa Cum Laude, BA Chemistry, Summa Cum Laude, WVU

Special Honors:

Gold Humanism Honor Society (GHHS) Alpha Omega Alpha (AOA) Honor Medical Society
What inspired you to be a doctor?
I was inspired to be a doctor at a young age by my mother, Atiya Malik Lateef. She's an internal medicine physician in Clarksburg and I grew up seeing her be the person that our neighbors would go to if they ever had a question. I saw who she was for our community, and I saw who she was for me. She never told me directly that I needed to go to medical school, it was just through her example that I thought that's the kind of caring, integral member of the community I also want to be.
What drew you to WVU?
I was drawn to WVU for my education at a very early stage. I grew up in Bridgeport, W.Va., and I would come to the WVU Honors College in Morgantown frequently for summer camps. The first time I stayed here was for Governors Honors Academy the summer before my senior year of high school. I met some fantastic people who I was then in college with at WVU and some of whom are now my medical school classmates.
I think what really solidified my decision for me was the scholarship support. I came to WVU as a Foundation Scholar and studied chemistry and biology and was so pleased with everything I was able to do while I was here. My mom did her residency in Internal Medicine at WVU as well, it's been great walking in her footsteps and being able to share those triumphs and challenges with her.
What does the tagline "Go First, Go Far" mean to you?
It means to have unbridled ambition and hope. In medical school, I knew that I wanted to spend more time doing dedicated research. I applied for the National Institutes of Health Medical Research Scholars Program and was the first person from West Virginia selected for the program. I spent a year in Bethesda, Md. working with top scientists from around the world on important problems. Being the first National Institutes of Health Medical Research Scholars Program participant from West Virginia means a lot to me because it enhanced my medical school experience, and now I want to inspire more WVU School of Medicine and School of Dentistry students to apply for the program because it opens doors not only for you, but also brings ideas back to our state.
Going first for me meant going for this program that no one from West Virginia had done before and blazing that trail for them. In many ways, I have met people that have inspired me to go first. I'm very excited to go to UCLA for my Diagnostic Radiology residency because of the potential for me to meet amazing people, do cutting-edge research and to be in a new environment and see new ideas. I'm hoping to bring that back and ultimately serve the people of the state and work here. All of that is possible because I feel like a member of the community here.
How do you think WVU impacts the state as a whole?
I see the impact in many ways and especially in medical school. My local hospital in Bridgeport is also a WVU Medicine site so I see how WVU serves not only Morgantown and the community here, but also other places in the state. You see it everywhere in medical school, you see people devoted to either working in Morgantown or working adjacent to the university in different places in our state. You also see patients who are really committed to seeing WVU Medicine physicians.
I also see WVU contributing to the education of people in the state in different ways. One of the things I'm most passionate about is Science Bowl and I volunteer with them every year. High school and middle school students come up to Morgantown to compete, but in-between the rounds they get to meet with WVU and NETL (National Energy Technology Laboratory) physicists, chemists, and engineers. It is such a good opportunity for them to visit a college campus, maybe some of them have never visited a college campus, and then they see themselves pursing college here and see how they can get scholarship support to come here. A lot of the students that visit campus do end up coming here for school because they have such positive experiences at such an early age.
What extra-curricular activities were you involved in at WVU and the School of Medicine, and how important is it for students to become involved on campus?
When I first came to WVU, I was shyer and more introverted. I would go to my chemistry labs two days a week for four or five hours and would want to come home and start on my lab assignments and homework right away. But slowly, I started to meet people and we would start to be around each other more.
I started getting involved in community organizations in Morgantown like Scott's Run Settlement House. I also started volunteering at Science Bowl, which is something I participated in high school and then I became a moderator for. WVU is a place where you can pursue your hobbies and give back to the community in projects you're passionate about.
What would you say to students who feel hesitant about becoming involved on campus at WVU and the School of Medicine?
When you join student organizations, you will find people who share the same hobbies as you do, and you will begin to have this bigger social circle to rely on. It's nice to have friends who are in and outside of medical school because I can relate to them in different ways, and they can help me with the challenges associated with medical school. You begin to feel like you really have a place here and it feels much more like home even if it may be scary at first to meet new people. Morgantown is a great place with so many different activities for different people that you are bound to find your fit.
Why is practicing in West Virginia so important to you?
This is home and this is where my family is. I mean both my immediate family, but also people in this community that I've come to view as my family. My parents are immigrants to the United States. They came here and they had to start fresh. My mom was a resident here battling both the intensity of residency but also being alone and not having her immediate family around her. Through them and through both my sister and I going to college at WVU, our family and our network has grown, so this is home.
I also enjoy serving the patients of West Virginia. They are grateful for the care they receive and are receptive to people who give them time and respect and I want to be a part of that mission. I want to be a radiologist who people call when they're not sure what their scan means or ask for advice on different options. I want to be the person that people rely on in that way.
I also have a goal to be a teacher. I have been a private tutor since high school. In medical school I have co-led our tutoring organization for medical students in twice-weekly sessions to help them better understand the curriculum and get study advice. I would like to apply that at the next stage while being a radiologist, but also be a teacher and be involved in the School of Medicine. To be a teacher in Morgantown and to be able to interface both with medical students and the undergraduate students who are interested in medicine is one of my big goals.
What drew you to diagnostic radiology as a specialty?
During my senior year of undergraduate school, I took a Latin class which I thought would be very useful for medical school. The class was taught by Dr. Robert Tallaksen, who is a radiologist in Morgantown. I loved the class and how he taught. In medical school I started sitting with the radiologists more because of that experience with Dr. Tallaksen and I found all of them to be wonderful teachers as well. I liked how imaging was like a puzzle and it was a great way for patients to find out what was going on. I started getting more involved with research as well, and part of my National Institutes of Health research was about imaging the heart and I kept finding that my interest tied back to diagnostic radiology. I want to pursue diagnostic radiology and be an educator and researcher in the field.
What do you ultimately hope to accomplish as a diagnostic radiologist?
I hope to be great provider and teacher. If I can leave patients a little less scared or confused about what's going on in terms of their illness or condition that they're going through, or if I can help a medical student who is really struggling with anatomy to understand how to do better on their exams, then I will have made a difference. Even now, when someone asks me if I can talk to a student who is interested in medical school, I absolutely will because I enjoy being a mentor and I want to make the process less scary for medical students and for patients. The more people I can help in that way, the happier I will be, because that is what gives me the biggest joy is meeting people and maybe making things a little less confusing for them and allowing them to have more hope.