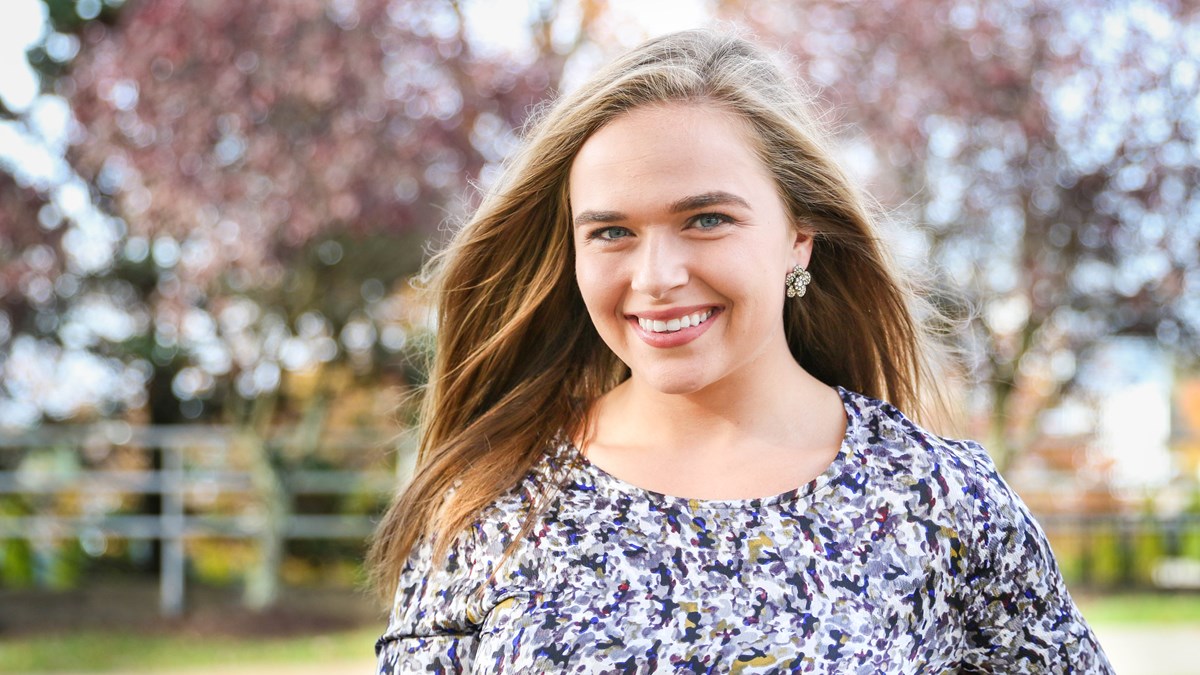 Hometown:

Shady Spring, West Virginia

Undergraduate Degree:

Exercise Physiology , School of Medicine, West Virginia University
Exercise Physiology is the pathway to medical school
Haley Craig has always been passionate about helping those around her. Growing up, the native of Shady Spring, West Virginia, was immersed in social activities revolving around community service. It comes as no surprise that when Haley was contemplating her long-term plan, a career in medicine, where caring for people is the ultimate goal, topped her list. Haley's decision was further solidified last summer when she had the privilege to shadow a general surgeon in her hometown.
"I just fell in love with surgery," Haley said. "The precision and creativity of each surgery makes it unique in its own way because each case brings about different challenges."
As a highly organized person, Haley was determined that her next move spoke to her aspirations. To her, WVU's bachelor's program in Exercise Physiology was the perfect fit. The program positions students to pursue a pathway to medical school, among other potential routes. Being at WVU also means being part of a family where students, faculty and staff are moving forward together, both in West Virginia and beyond.
"WVU is an excellent institution for research and presents countless opportunities for students even before they graduate," she said. "It is the best in-state institution for research and the number one feeder school into the medical schools in our state. The school spirit here is unlike any other. Whether you're in Morgantown, southern West Virginia, or in another state, Mountaineers are all family!"
Haley credits WVU for reaching out not only to students, but also to surrounding communities. Whether by organizing fundraisers to aid hurricane victims or nurturing a variety of communities within the student body, WVU is always at the forefront of helping others. She emphasizes WVU's passion for serving the community and providing students with endless opportunities to do so. She found in WVU a diverse array of enjoyable and rewarding activities that echo her future vision.
In her capacity as the president of the WVU Pre-Medical Club, a student ambassador for the School of Medicine, and an executive board officer of the Exercise Physiology Club, Haley explains that the time she is investing now will ultimately equip her with the skills and knowledge she needs to lead a successful career path.
"Even though I am still in the early stages of these roles, having these positions have been some of the most impactful experiences I have had thus far during my academic career," Haley said. "I am working towards making the WVU Pre-Medical Club a powerful resource to pre-med students and a tool for them to improve their knowledge and skills in a clinical setting prior to applying to medical school."
A bevy of evidence establishes that student-faculty relationships are important on a number of fronts. Haley praised WVU for the great mentors who guided her and kept her on track. 
"Dr. Randy Bryner, Ed.D., my academic advisor and one of my professors in the Exercise Physiology Division, has always encouraged me to go the extra mile in everything I do," she said. "Even during times where I questioned my abilities, he always saw that I had the potential to do great things."
Next year looks fairly busy for Haley. The Milan Puskar Leadership Scholarship winner will be given the opportunity to study abroad during the summer. Haley feels particularly enthusiastic about exploring a different culture and seeing the world through a new lens. The scholarship also provides the winning students with funds to attend conferences and events where they can continue to build on their knowledge of leadership skills and applications.
Haley will also be interning with the Exercise Physiology program during her senior year in an experience that will further hone her skills.
"The opportunity we have as Exercise Physiology students to work with patients during our undergraduate career is something that other programs do not have," Haley said. "Through this internship, I hope to work alongside a physician to get hands-on patient experience prior to entering medical school."
Aside from her love for science, Haley is a very artistic person. With a strong attention to detail and a creative mind, she finds tranquility in painting and crafting.
"I am always working on a new project," she said. "Every time one of my friends has a birthday, I make them a homemade gift. I love experimenting with new mediums and styles of art, it keeps my talent growing with each project."