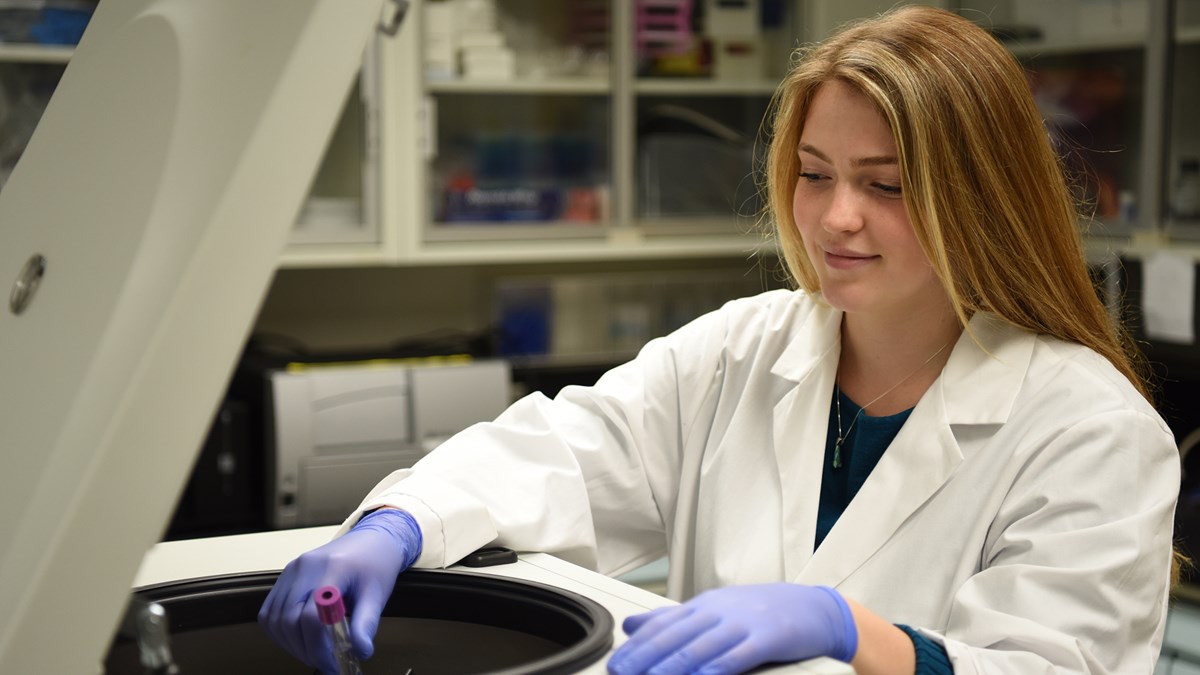 Hometown:

Lewisburg, West Virginia

Graduate Degree:

Medicine '21, West Virginia University School of Medicine
Undergraduate exercise physiology research leads to fellowship at the National Cancer Institute and a spot in the M.D. Class of 2021
Motivated by her interest in physiology and anatomy, Ashlee Seldomridge, a native of Lewisburg, West Virginia, found exercise physiology the perfect fit for her undergraduate studies.
"There is a lot that exercise physiology can offer," Ashlee said. "On one hand, you learn the functional movement of the body, full scale; and on the other hand, you incorporate the molecular scale by studying biology and chemistry."
Once decided on a major, Ashlee began her quest for the right school, one that would respond, first and foremost, to her research interests as well as her future aspirations.
"I chose West Virginia University for multiple reasons. It has great science and research programs, quality education and affordable in-state tuition," Ashlee explained. "At WVU, I can envision myself getting into medical school, going to Washington, D.C., and engaging in nationally competitive programs."
Numerous hours volunteering eventually led to an internship and a highly competitive fellowship in the research lab of Paul Chantler, Ph.D., assistant professor in the School of Medicine's Department of Exercise Physiology and the clinical research director for the Center for Cardiovascular and Respiratory Sciences. Ashlee pursued working with Dr. Chantler because she believes the research occurring in his lab will make an impact on West Virginia, as the number of cases of diabetes and metabolic syndrome are increasing at historic levels.
"Our lab examines the effects of exercise on cardiac and arterial function in individuals with Metabolic syndrome," Ashlee said. "Metabolic syndrome is a classification of risk factors, including obesity and high cholesterol that significantly increases the chance of developing cardiovascular disease, and that disease is fatal."
Specifically, Ashlee works to understand the regulation of reactive substances that alter arterial, or blood vessel, function. She measures the protein release from the fat tissue surrounding the aorta, called perivascular adipose tissue. Dr. Chantler's lab believes that this fat tissue causes harmful effects on vessels in people with obesity. Researchers also want to examine how the protein release changes after exercise
She, along with Dr. Chantler, earned the honor of participating in the 20th annual Posters on the Hill event in spring 2016, a selective poster session sponsored by the Council on Undergraduate Research (CUR), based in Washington, D.C.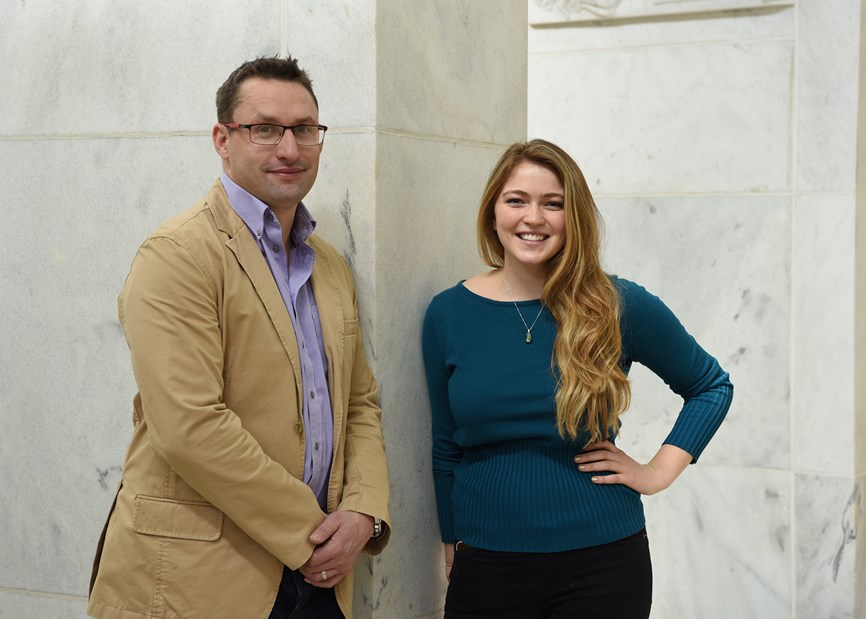 Ashlee's academic dreams materialized this year. Not only did she get accepted into WVU's M.D. program, she was also offered the prestigious opportunity to complete a one-year fellowship in cancer research at the National Cancer Institute (NCI).
"Driven by my love for cancer research, I was looking up available opportunities and came across this one at the National Cancer Institute," Ashlee said. "I hadn't been accepted yet to medical school, so my plan was if I don't make the cut this year, I will join the National Cancer Institute and reapply."
Due to the flexibility that WVU offers, Ashlee was able to defer her first year of medical school to seize the research opportunity at the NCI.
"I will be working with Dr. Deric Park and Dr. Amber Giles in the Neuro-Oncology Branch of the NCI, researching methods to treat brain tumors," Ashlee explained. "Dr. Park will be conducting clinical trials, while Dr. Giles will be looking into ways to trick the immune system to attack brain tumors."
A bevy of evidence establishes that student-faculty relationships are important on a number of fronts. Ashlee praised WVU for the great mentors who guided her, and for allowing students to tailor their education.
"Within exercise physiology, my advisor, Dr. Randall Bryner was a great mentor and easy to talk to; Dr. Mark Paternostro was also really helpful; and one of my biology professors, Dr. Stephanie Young, was really good at simplifying the course materials," Ashlee said. "I also like how you can tailor your education here. I have a major in exercise physiology and a minor in biology, so I can learn about diabetes and metabolic syndrome in a physiology class and then learn about the molecular side through a biology class."
Asked about her future plans following the completion of medical school, Ashlee seems steadfast in pursuing a medical career in Oncology.
"I love cancer research and I think the field is changing in terms of personalized medicine," she said. "I don't know if I will always be here in West Virginia, but you can go away to learn, while knowing you have to come back to help."
Ashlee's advice for prospective students centers on discovering what they really like, then pursuing it all the way.
"Find something that you like and that speaks to you," Ashlee stressed. "If you know you want to get into medical school, check the requirements, find your role and get involved."
You can read more about WVU's exercise physiology program here.