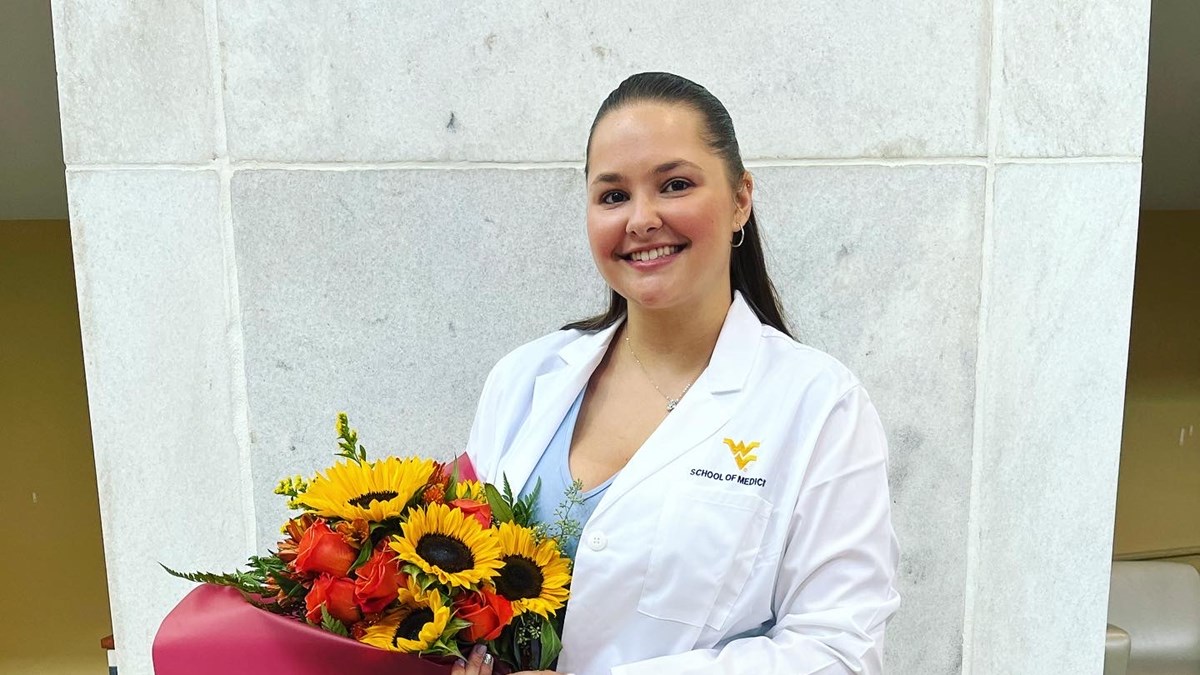 Hometown:

Patton, Pennsylvania

Undergraduate Degree:

Speech Pathology & Audiology, Clarion University of Pennsylvania

Graduate Degree:

Audiology (Au.D.), West Virginia University

Special Honors:

Member of the National Student Speech, Language, and Hearing Association
Why did you choose your current major or program?
I chose my major to make a difference in the communication abilities of those around me. I grew up in a military family, and I've seen firsthand the damage that can be done to a person's hearing and the effects hearing loss has on communication.
Why did you choose WVU for your education? 
I chose WVU because of their brand new three-year program for audiology with access to new equipment. WVU is also close to home.
What do you eventually want to do in your career? What's the end goal? Are there any postgraduate degrees or programs you want to pursue?
My end goal is to work either in an Ear, Nose and Throat clinical setting or a private practice setting. I love the pace and the type of work that is done at both settings. I've also considered going back to school to get a certificate in animal audiology.
Why do you feel this career will be rewarding and fits you uniquely?
This career will be rewarding because the field of audiology is all about improving someone's quality of life. Audiology fits for me because I was born loud, so it comes in handy when working with those with hearing loss.
What's interesting about your specialty?
The ear is such a fascinating thing! It not only is in charge of hearing, but the balance system is located in the ear as well.
What would you tell a student who's thinking about applying to your program?
Don't be intimidated by the nature of an accelerated program.
What would you tell yourself as you look back on where you started compared to where you are now?
Have faith and confidence. You are going to make mistakes and feel like you've fallen short, but it's important to remember that you're learning. Give yourself some grace, and take a breath.
Does your program have any hands-on learning or internship opportunities that you've particularly enjoyed? 
WVU's audiology program allows for hands-on learning and clinical experience from the very beginning. It's really beneficial to apply what you learn in class to a clinical situation early on because it allows for better understanding. I have loved all of my clinical placements so far.
Have you had any faculty that you particularly enjoyed in class or through mentorship, etc.?
Dr. Benjamin Boss and Dr. Leah Morse have been absolutely amazing to have as mentors and supervisors. They have both pushed me to do things that I didn't have the confidence to do and have always been encouraging.
Are you active in any clubs or extracurricular activities?
I'm the vice president of the WVU Chapter of the Student Academy of Audiology.
What's been your most memorable experience at WVU or in Morgantown so far?
The friends that I've made and all of the Crockett's memories.
Who are your supporters, and what would you tell them?
My family is my biggest support system. Words can't even begin to describe what I would tell them, but I would start with thank you. Thank you for being there when I needed a push, a shoulder to cry on, when I needed to vent and to give me all the laughs I could ever ask for. I couldn't have gotten this far without all of you.
Tell us something unique or interesting about yourself that others may not know. Hobbies, talents, superlatives, etc.
One of my favorite things to do is bake. I love trying new recipes and seeing what I can come up with.