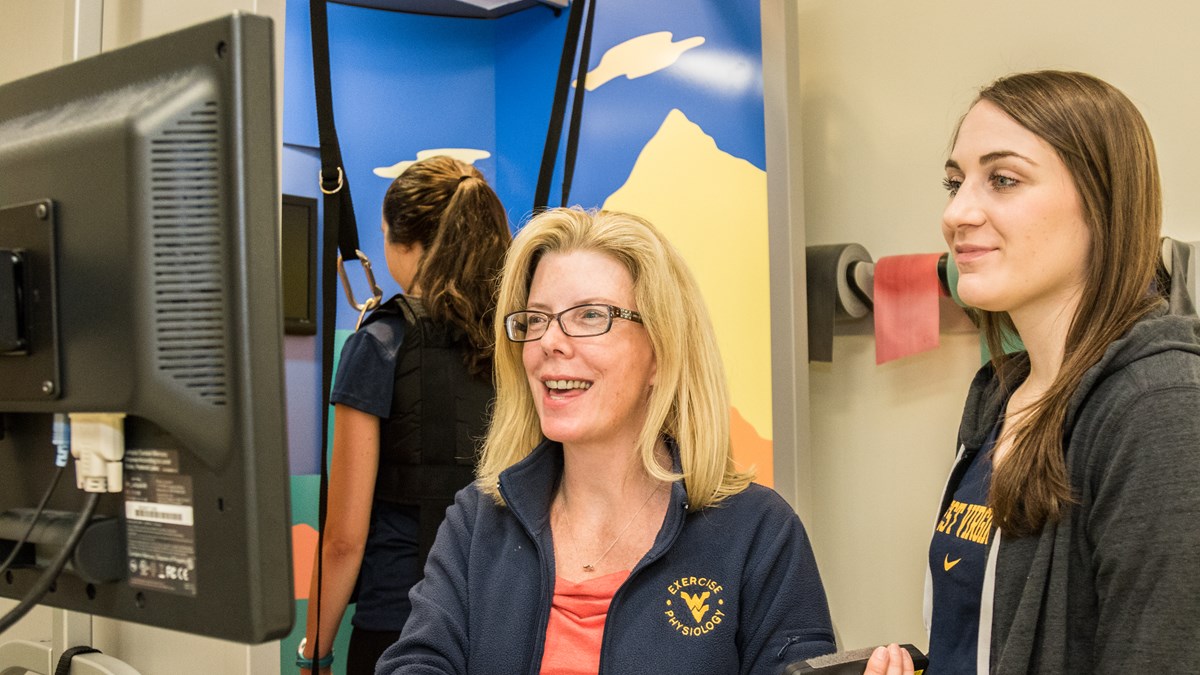 Exercise physiology researcher balances a busy career and being a mom
Jean McCrory, Ph.D. was always fascinated by science. A native of Washington County, Pennsylvania, Dr. McCrory pursued her undergraduate degree at California University of Pennsylvania where she earned a bachelor's degree in chemistry with a minor in physics. She currently serves as an assistant professor of exercise physiology in the School of Medicine and research project director for the WVU Injury Control Research Center.
"I liked the logic problems of the science, but I didn't really like being a chemist," Dr. McCrory said. "I was a chemist for a year in Washington, and I made pigments for glass and ceramics. I was in a lab by myself all the time, and I was unhappy there."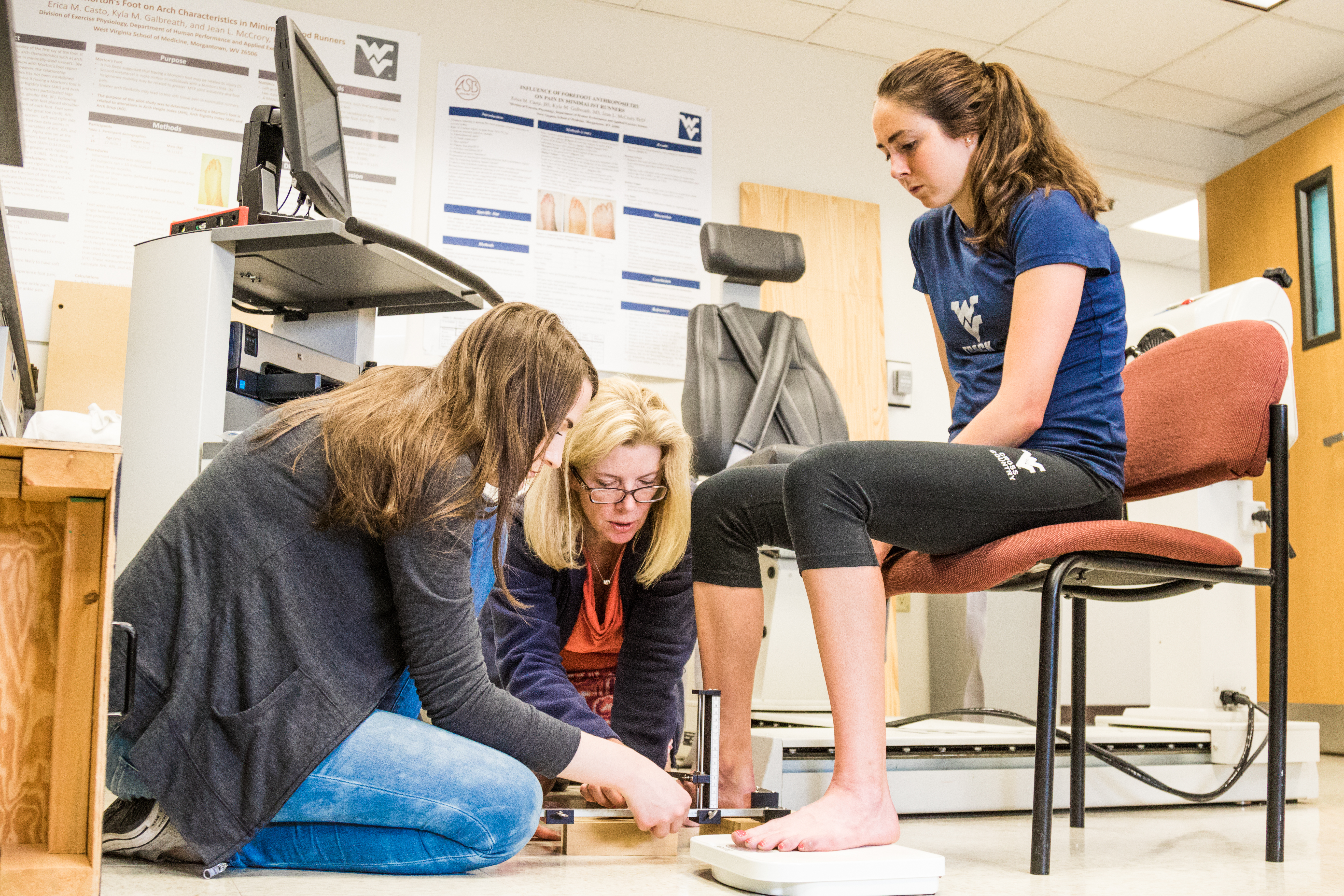 Striving for the opportunity to work in a field where she can utilize her science knowledge while doing something she loves, Dr. McCrory explains how biomechanics emerged as the answer to her quest.
"One day, I saw a program on PBS, one of the science shows about biomechanics which is the science behind people movement, and I was so intrigued by the show," she said. "I realized I could use physics, that it looked like fun and that I get to work with people. I looked into biomechanics programs and ended up getting my master's degree at Wake Forest University in North Carolina."
Throughout her graduate studies, Dr. McCrory discovered a penchant for research, a field that paved her way to a rewarding career path.
"In my thesis, I looked at runners who had Achilles tendonitis," she said. "I compared their movement and their strengths to runners who were healthy and measured the difference between them. That's when I knew I really liked research, so I worked for a year following my master's program at the University of Tennessee's medical school as a technician."
Being exposed to a rigorous and translational atmosphere of investigation galvanized Dr. McCrory's desire to take this passion a step further.
"I returned to Pennsylvania and spent the next four years getting my Ph.D. from Penn State," she said. "My dissertation was funded by NASA. I was looking at how astronauts walk and run in space, how the mechanics might be different and if they are getting the same good things that happen to the body when they run on earth."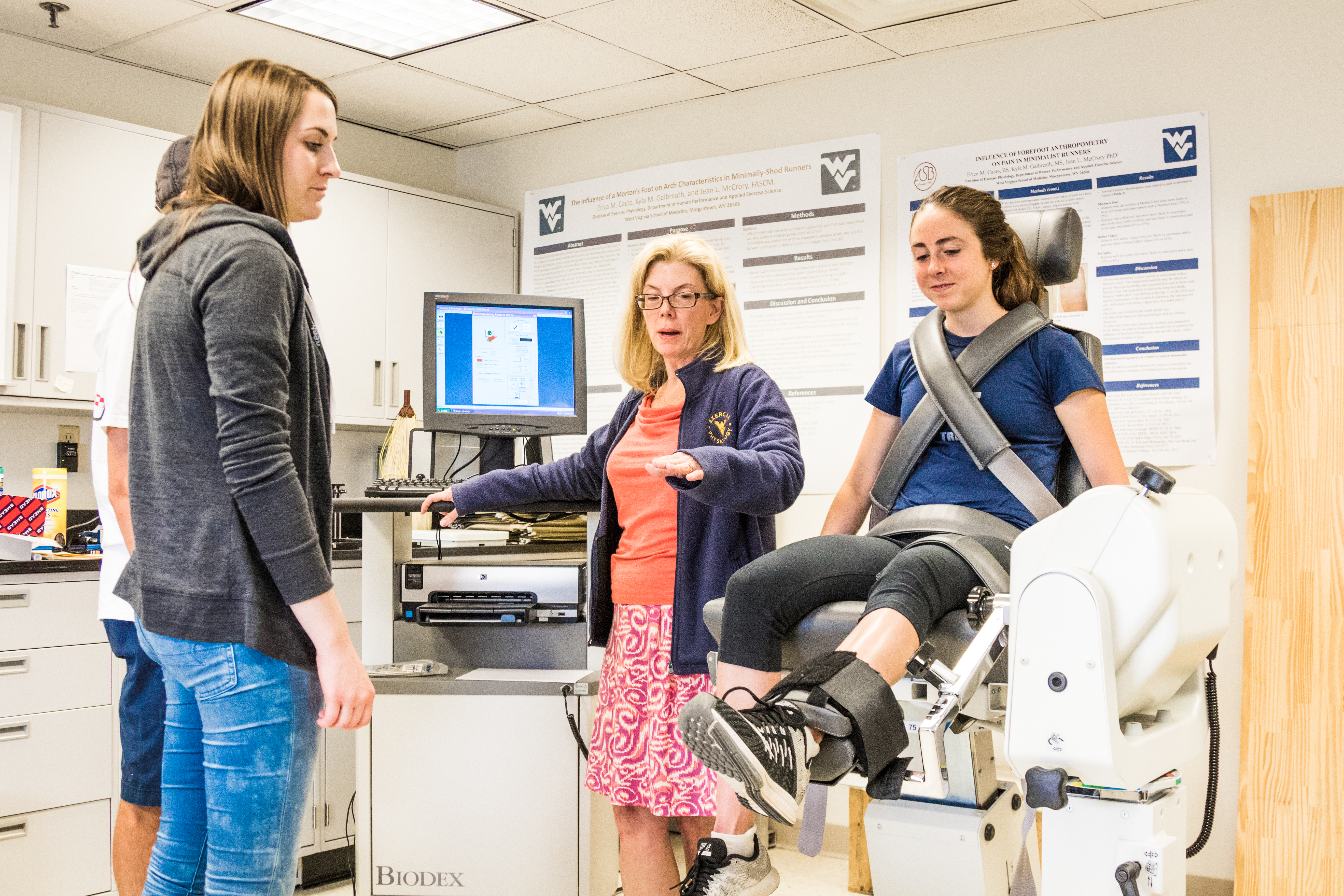 Dr. McCrory spent the next ten years of her career as a post-doctoral research associate and clinical instructor at University of Kentucky, an assistant professor and then a research assistant professor at the University of Pittsburgh before joining West Virgnia University as an assistant professor in the School of Medicine's Division of Exercise Physiology.
"In 2008, the economy was completely tanked," Dr. McCrory said, "and there were no research grants. "So, right about that time, I saw WVU advertise for a fully funded position, so I applied here. It was really the best fit for me."
Dr. McCrory further describes what it means to be part of WVU.
"Everyone here is kind and collegial," she said. "Through our research, we work as a team, we have the support from the department chair and we really feel we are doing a good job and that we are welcomed here. I also like working with the students who want to make the best of their lives and love seeing them enthusiastic about what we do. Some of them come up after class and ask me, 'Can I work in your lab? Can I be involved in research?' Because of this excitement, I have five interns this semester."
Dr. McCrory is also a wife and mother of two girls. Throughout her career at WVU, she was inspired by other faculty members who excelled at their job while raising a family. She gives work-life balance advice that shaped her career and motherhood.
"When I think about how I can balance having a career and being a mum, I think of all these other faculty members who are now full professors, and they did it too," Dr. McCrory said. "Consider Mary Beth Mandich, Ph.D. She is the vice dean and chair of the Department of Physical Therapy. She has a large family, and she is also very successful at work. So, there are a lot of role models, both sciencewise and lifewise. I have learned that it is not a race, it's not a sprint, it's a marathon and everything gets its own time."
Dr. McCrory is engaged in an array of research with a unique focus on women. She continues to build her research tool kit to address many of the health problems that women face because that is where she sees the holes in science.
"We have studies looking at how the body changes with pregnancy, another study focusing on incontinence, which people really don't talk about because they are embarrassed," she said. "It is not only post-menopausal women who suffer from pelvic floor issues, a lot of athletes also do. We have another ongoing study where we document the neuropathy caused by a relatively new chemotherapy for breast cancer called Taksin. It is a phenomenal treatment, it has really increased long-term survivorship, with the unfortunate side effect of affecting the nervous system."
When asked about her advice for prospective students, Dr. McCrory reiterated the enormous advantage of adopting a flexible mindset, pursuing what you love and taking this journey one step at a time.