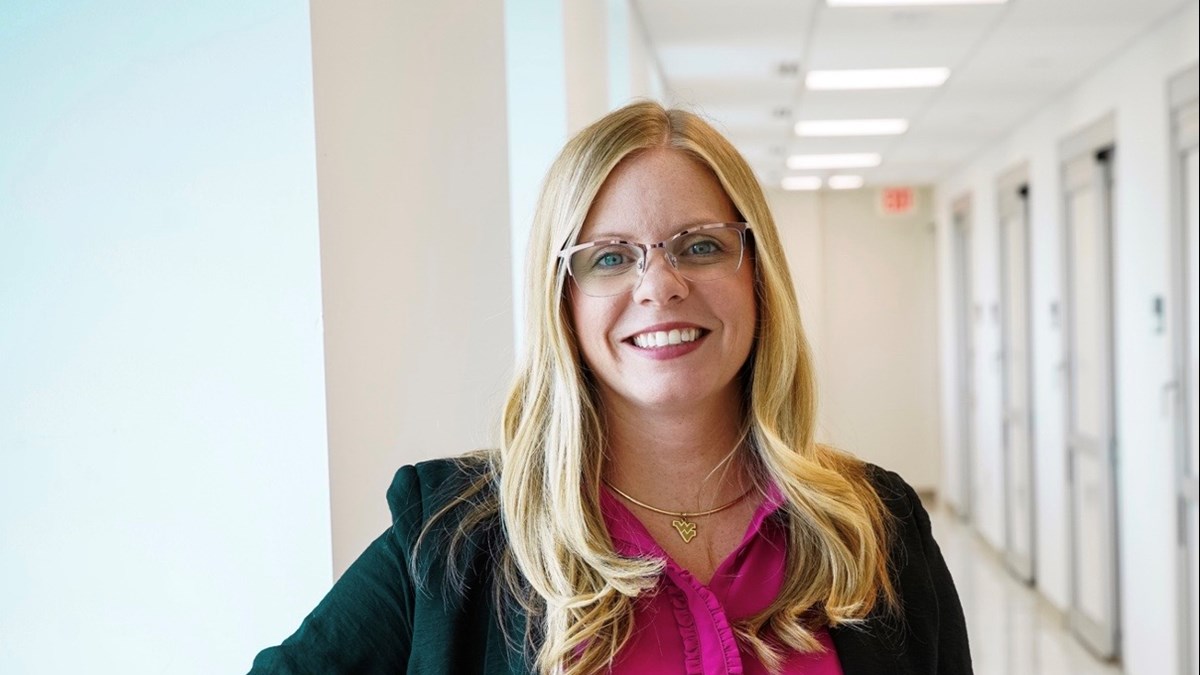 Tell me about yourself.
I am from Belington, West Virginia. I went to college at Concord University in southern West Virginia and came to WVU for medical school. While at WVU, I was part of the WVU Department of Family Medicine Rural Scholars Program and decided I wanted to serve with the department after graduating. I'm now a family medicine physician and faculty member. I'm also board certified in medical acupuncture.
What made you initially interested in medicine?
I've always loved science and caring for people. I also have a teaching degree so I knew I wanted to be in a place where I could combine all those passions. Academic medicine is a perfect fit.
What made you decide on WVU for your MD degree?
West Virginia is my home, and this is the place I love, so it was an easy choice. The program is very strong, and I wanted to be surrounded by people who had similar interests.
What made you interested in family medicine?
I love family medicine because I get to work with all age groups and people presenting with a variety of concerns. A family doc is the first person a patient sees when they are seeking medical care which allows for a special relationship.
What made you interested in integrating acupuncture and other wellness techniques into your practice?
In my first few years as a physician, in my personal and professional life, I was seeing a lot of patients in pain that were not feeling better with medications and other treatments. I was looking for something to supplement my practice to make my capabilities for treatment stronger and acupuncture was the perfect tool to add to my toolbox.
You operate the acupuncture clinic with Dr. Oreskovich. What has that experience been like?
Dr. Jason Oreskovich and I operate an acupuncture clinic as part of the Clark K Sleeth Family Medicine Clinic. We see patients throughout the week with a variety of medical conditions and perform treatments right in the Family Medicine Clinic. It's completely integrated into what we do. Students, residents, and visiting physicians have all had the opportunity to participate in the clinic. It is very rewarding to assist patients with their recovery and wellness journey.
Tell me a little bit about your experience as president of the American Academy of Medical Acupuncture
As president, I work with all the different committees that we have and assist with day-to-day operations. I also get to work with physicians from around the country who also practice medical acupuncture in a variety of different specialties. It's wonderful sharing ideas and common ground with physicians around the country because our practice of acupuncture unites us. Being in this leadership role is humbling and a lot of hard work, and I am thankful for the experience. 
You recently spoke at the International Congress for Medical Acupuncture and Related Techniques in Italy. What was that experience like?
This was my first time traveling to Europe. It was such a welcoming environment to meet and interact with physicians from around the world who wanted to share ideas from different cultures and styles of medical practice. We were all very different and became untied through our practice of medical acupuncture.
How do you bring your knowledge of acupuncture and other wellness techniques into teaching medical students?
I am the co-clerkship director of family medicine with Dr. Jason Oreskovich. I oversee the medical student rotation in family medicine, and I like to expose students to medical acupuncture and other evidence-based integrative medicine techniques as part of the rotation. We do our best to include these techniques as a normal practice of medicine. Students also can do a rotation at the acupuncture clinic if they choose. By providing students with a well-rounded view of medicine through the integration of lifestyle medicine, they are able to understand a unique perspective that can be included in their practice.
Anything else you would like to add?
I do this for my patients. The patient is the reason I work so hard, and I work to better my own skills to provide the best possible care I can for my patients.