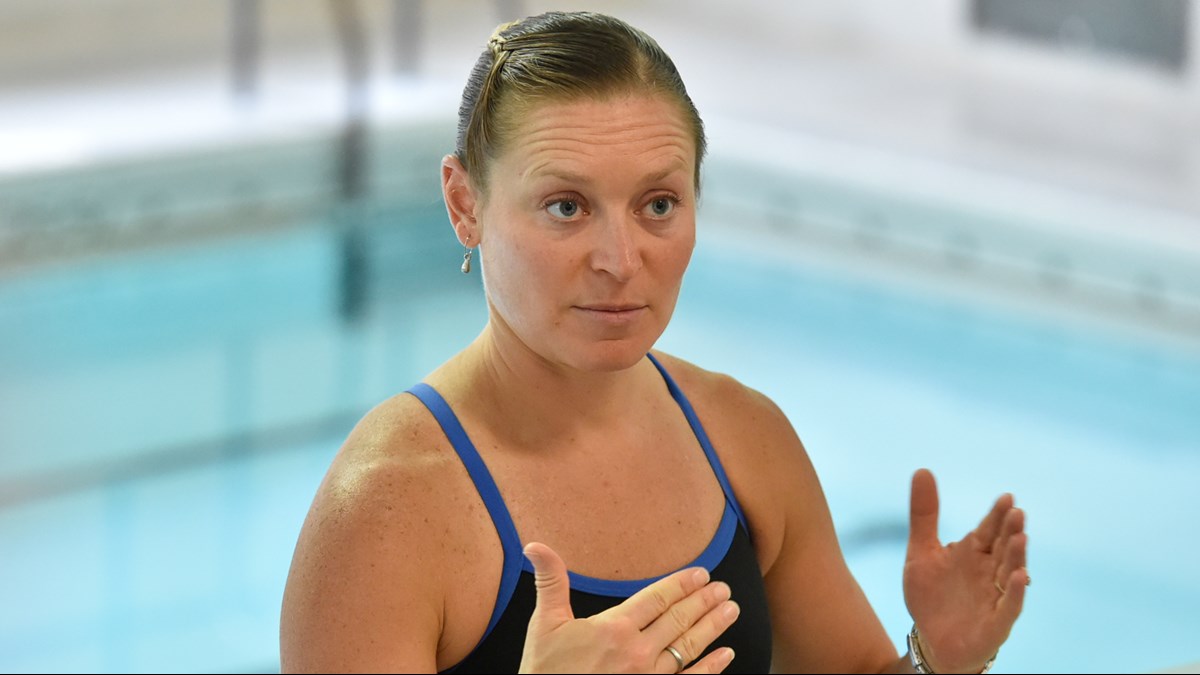 Hometown:

Morgantown, West Virginia
WVU exercise physiology professor and Ironman challenger teaches the only aquatic therapy program in the country
When Lori Sherlock, a native of Morgantown, West Virginia, began her studies in college, she was interested in environmental sciences.  By luck, she discovered aquatic therapy, and that paved the way for a remarkable turnaround in her journey. She earned her bachelor and master's degree in Exercise Physiology at WVU, followed by a doctorate in Curriculum and Instruction with an emphasis in Exercise Physiology.
"There was an aquatic therapy emphasis that was just created at the time, so I delved into that, and my life unfolded around it," Lori said. "I fell in love with exercise from there, and that is when exercise physiology seemed like the right path for me."
Lori is determined to take her passion for aquatic therapy to the next level. Currently, an assistant professor in WVU's Exercise Physiology Division, she is also responsible for teaching courses and training in aquatic therapy, the only such program in the entire nation.
"I have altered the curriculum that was created by Paula Briggs, an associate professor at the time. It is the only one in the nation," Lori reiterated. "We get to spend some of the time in the classroom, some of the time in the pool, and I also send my students on clinical rotations."
Motivated by her belief in the various benefits of this program, Lori is intent on sharing it with the wider community.
"I teach six deep water running classes a week and those are to a wide group of people, so I will have college students in my class as well as 90-year-old people, and everybody coexists really well," Lori explained. "Everybody does the same workout but at their own pace. I want each one of them working to his or her potential versus working at the same speed. So many of my clients have told me that they are able to do more things better in life because of this class."
Lori credits passion and flexibility with helping her to successfully find her path, a piece of advice she wants to pass on to prospective students.
"First and foremost, make sure you love what you do," Lori said. So many times, we come into college with a concept of 'this is point A, and I want to get to point B,' but sometimes you have to reroute to get to point B, and sometimes point B changes. So, probably the most important advice is if you are going to do this for the rest of your life, make sure you love what you do."
Throughout her life, Lori has been physically active. She learned a lot about herself physically when she started structured exercise on the rowing team in college. However, Lori's zeal and dedication for exercise did not stop there. After getting a taste for high-level competitiveness, she vowed to up her game, committing herself to participate in an Ironman triathlon.
"After rowing was over, I kept up with exercise but it was not as structured," Lori said. "There was a triathlon coming to Morgantown, and I signed up for the half Ironman. It was so hot and hilly, it took me over six hours to finish, but I loved every minute of it. When I crossed the line, I turned around and said, 'I can I do that again.'"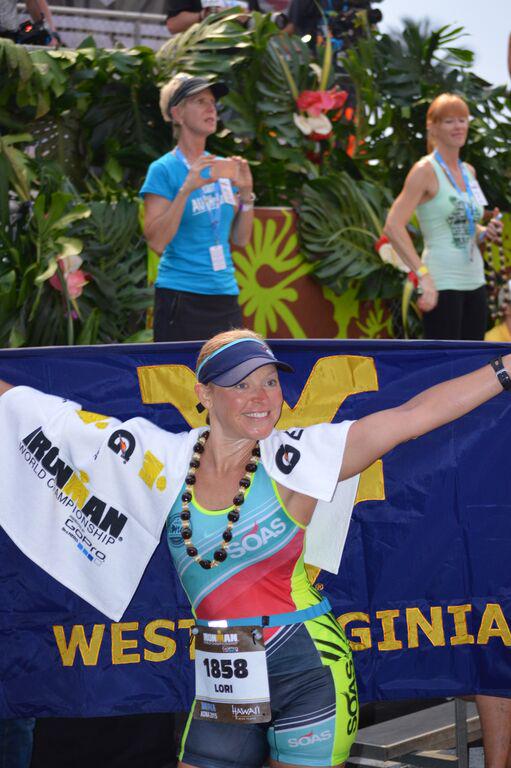 For many people, the idea of competing in an Ironman triathlon is impossible. The competitive race consists of a 2.4-mile swim, 112-mile bike ride, and 26.2-mile marathon run. It is considered the most challenging, single-day event in the world. To that point, Lori singles out a strong internal drive as the most important trait to accommodate not only that challenge but also every aspect of her life. 
"My husband calls me type A++," she said. "If I care for something in my life, I really push all the way for that, and I give it everything I've got. Whether it is relationships, work or triathlon, I find that internal drive gets me to my next goal, and it is really strong – strong enough to get me up early in the morning to fit in my training sessions or stay late at work to get it done."
Asked about her constant motivation, Lori explained how cultivating a love for change, the will to become better and keeping track of her progress have always helped her.
"I am not okay with things just being the way they are," she said. "I want things to change and I want to do better. Even with my aquatic classes, every semester I change something about them because I want my students to learn more about a particular method, or maybe I learned something new from my evaluation."
Lori follows the same formula with triathlons. Over the past few years, she has been writing race reports, and it all started in 2011 when the town of Morgantown sponsored her to the world championship.
"I always write a race report; it is a story about my experience during the triathlon and is almost like keeping a journal to help me reflect on what I can do better and what I can learn from this event," Lori said. "In 2011, when my town rallied around me for the world championship, I started posting pictures, sharing my training progress and my race reports on my Facebook page Lori Sherlock-triathlete to keep everybody abreast with what was going on."
Lori says she is blessed to have lived her entire life in Morgantown, a place she praises for its inclusive diversity and its wonderful nature. 
"Morgantown has a lot of diversity, which I really love," she explained. "It opens you up to experience many different things. I don't intend to move anytime soon. People here are noted to be kind and warm. We also have an amazing natural setting, so people can always get out and enjoy that."
Lori is intensely focused on keeping everything organized. She believes her planning skills and the flexibility that her job offers equip her to juggle a full-time job and a rigorous training regimen. 
"The secret is in my planner," she said. "I make a list every night of things that I need to get through during the day. The other nice thing is the flexibility of my job. I can sometimes come into my office at four o'clock in the morning, and I work until two o'clock in the afternoon, and that gives me daylight to go out and do my workout."