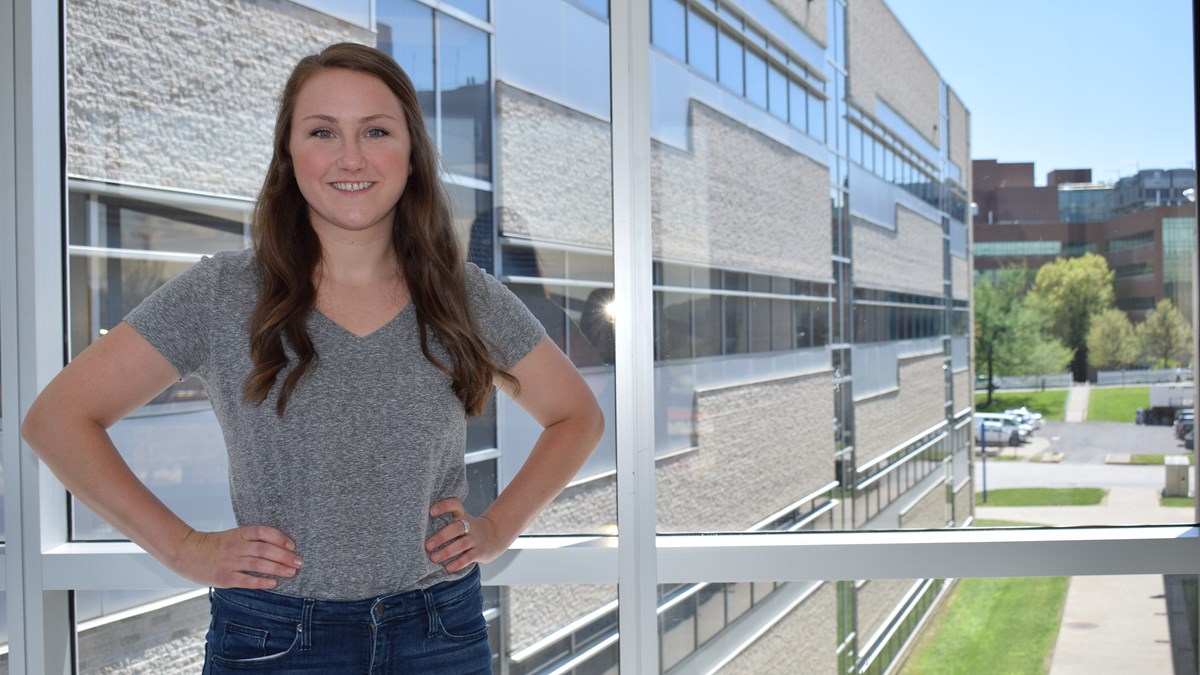 Hometown:

Western Pa.

Undergraduate Degree:

Biochemistry and Molecular Biology, Penn State
What made you want to get your MD degree at WVU?
I did a lot of work in global rural communities. Growing up in Western Pa, so I was aware of the health disparities the rural communities of West Virginia face. I knew that WVU would allow me to further explore my interests in rural and global health, while helping to give back to communities here in the U.S. Other large attractors to the school were the emphasis on wellness and the global health track they offer.
As an out of state student how did you hear about WVU?
I am from a northern suburb of Pittsburgh. Two students from my high school came here for their MD and I heard about it through them. 
So far, what is your favorite part of the MD program?
I love the programs emphasis on wellness and the support to become a well-rounded physician. The administration cares about our mental health and want each student to succeed. The students here are all supportive of each other and the atmosphere is not competitive. We all want to help each other and make sure we are all in a good place to become great doctors. 
What made you want to become a doctor?
I've always known I wanted to be a doctor. As a child I liked to take things apart and put them back together again. My family often thought I would become an engineer someday, but I've always loved interacting with people and creating special relationships with others. Being a physician allows me to work with my hands and mind in addition to having a special relationship with my patients. There are few professions that are able to challenge you mentally, while still making an impact on other people's lives each day.
How do you think your 3rd and 4th clinical years will be unique since you are part of the Charleston Campus?
Charleston campus will allow me to have a more integral role as medical student in the care of patients.  Morgantown has a lot of students and residents, but Charleston and Eastern have fewer. This will allow me more direct access to patients. Plus, Charleston is in a more urban area and will allow me to see a wide variety of patients. 
Did the programs orientation week help you get to know your classmates, faculty/staff, and get you acquainted with Morgantown before classes officially started?
It was great. We were able to get our bearings in Morgantown and learn about the school at the same time.  We were able to go into the first week of classes with a clear mind and create friendships. Some of those friends I made that first week are still my best friends now. 
Do you have any advice for anyone thinking about medical school?
Do your research and know what you are getting yourself into. Medical school is hard, but if your heart is in it, you will get through it no matter what. Also, don't give up the things you love during medical school. Though it may be hard, try to find the time to do something you enjoy. I think it is essential for keeping a balanced and healthy life as a medical student.
What activities help keep you a well-balanced medical student?
I like to exercise a lot. I also volunteer at On Eagles Wings, a therapeutic horsemanship center for patients with disabilities. It is a perfect fit for me since I have been riding horses since a young age. I can give back to the community and create a balance in my life at the same time. When I volunteer it reminds me why I wanted to be a doctor in the first place, and helps drive me to keep reaching towards my goals. 
So far, which wellness event has been your favorite? 
Snack nights before our exams. It is a great way to interact with the Deans of the medical school and bring the students together. My friends and I take an hour break to go to snack night and relax the night before a high stakes exam.
What plans do you have for the summer between first and second year?
I will be doing an Obstetrics and Gynecology externship at WVU. I am interested in global and rural women's health so this is a great fit for me. I kind of knew I wanted to be an OBGYN coming into medical school, so the externship is a great opportunity to make sure that this is what I want to do and explore the specialty more. 
What are your goals after graduating?
I would like to do some global work as an OBGYN. I would also like to potentially do a fellowship in Gynecological Oncology.  
Interviewed spring of 2019 (during the MS1 curriculum)
Photo taken Bridge to the Research building