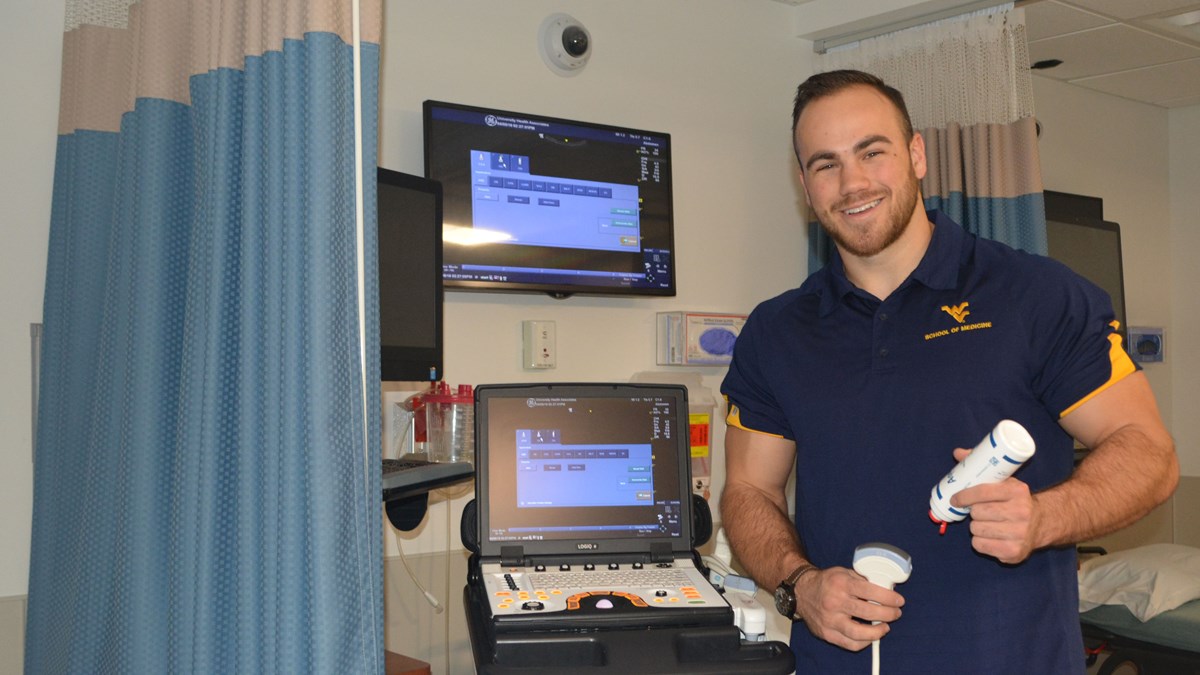 Hometown:

Burgettstown, PA

Undergraduate Degree:

Science/Pre-Med
What made you want to get your MD degree at WVU? 
WVU is close to home and I knew I wanted to stay in this area.  I knew I would get a good education here.  
As an out of state student how did you hear about WVU?
I grew up somewhat close to here and have worked with the West Virginia Juvenile Diabetes Camp for years now. I was able to connect with people from WVU at camp and it made me want to come here for school.  
So far, what is your favorite part of the MD program? 
All of the staff members know you by name and go out of their way to help you. We are more than just a number here. 
What made you want to become a doctor? 
Since I was young, I was sitting in the doctor's chair.  I needed doctors to help me live my life in the best way possible.  Without the doctors working with me to help me learn how to take care of my diabetes, I would not have been able to be as active and healthy as I am now.  Working at the juvenile diabetes camp during the summer made me realize that I wanted to help people with their conditions and help them live a healthy life.   
How do you think your 3rd and 4th clinical years will be unique since you are part of the Morgantown Campus?
In Morgantown you have Ruby Memorial Hospital.  There are so many specialties and ways to immerse yourself in medicine.  There are plenty of opportunities to involve yourself so that you can find your niche when the time comes. 
How did volunteering at the juvenile diabetes camp help prepare you for medical school?   
When I was a kid I did not want to go to camp at all, but my doctor convinced me to go as a counselor.  From the first day, I really enjoyed interacting with campers and staff. It is important to learn about how everyone treats their disease differently. As a physician, I need to be able to adapt to the different ways patients interact with their disease.  I knew the patient side myself, but now I am learning the medical side of it.  
Did the programs orientation week help you get to know your classmates, faculty/staff, and get you acquainted with Morgantown before classes officially started? 
It was nice to get to know everyone in outside of a classroom setting.  The ability to interact with the staff before classes started was great.  Playing Frisbee Golf with Dr. Shiemke was my favorite part of the week. 
Do you have any advice for anyone thinking about medical school? 
It is way more of a commitment than I imagined, but I try to maintain focus on the end goal.  You need to have a passion for medicine and for the study of it.  It is very important to have an outlet that is not school related and friends to vent with to keep you well balanced.  
What activities help keep you a well-balanced medical student? 
The main thing for me is the gym.  I go with some of my classmates to lift before our morning lecture.  I like to be active. I rock climb and hike when I have time to do those things.  The best place around here that I know of is Coopers Rock.  The WVU Student Rec Center is close for a workout too.  
So far, which wellness event has been your favorite?   
Any event where there is free food is my favorite.  Free food makes my day better.    
What plans do you have for the summer between first and second year? 
I am doing the INTRO research program with Dr. Lambert.  We will be dealing with taste bud pathology for the summer.  This will be my first experience with research.  I was a teaching assistant during undergrad, so I am excited to participate in research for the first time and potentially contribute to something.   
What are your goals after graduating? 
I will narrow it down during my third year, but I like Orthopedics, Interventional Radiology, and Pediatrics.  Once I get into my rotations, I will be able to see what best fits me.