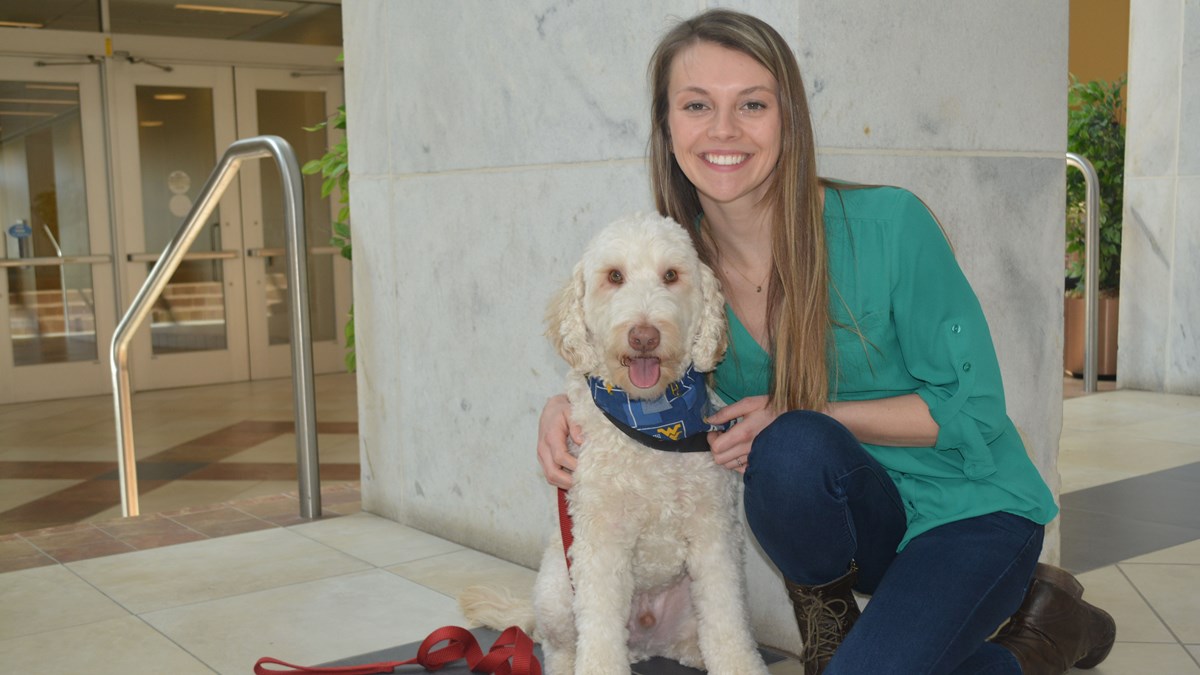 Undergraduate Degree:

Health Science, University of Florida
What made you want to get your MD degree at WVU?
Honestly it was when I came for my interview, the people were amazing.  It is one of the most welcome places I have been.  The faculty, staff, professors, and upperclassmen are all welcoming and helpful.  Also, the STEPS center (the simulation center at the Health Sciences Campus) is awesome. 
As an out of state student how did you hear about WVU?
When I was looking at medical schools I was looking at schools that were known for primary care.  WVU came up and I started looking at the program. 
So far, what is your favorite part of the MD program?
The people and the professors are my favorite part so far.  My friends here have become family and are all so supportive and encouraging of one another. All of our professors are also great at making themselves available to answer any questions we may have. They really want us to succeed and become the best possible physicians.
What made you want to become a doctor?
The short answer is that I wanted to help people. I like interacting with others and being a support system for those who need it. As a physician, I will have the opportunity to build relationships with each of my patients as we work together toward a common goal of improving their health and taking care of themselves.
How do you think your 3rd and 4th clinical years will be unique since you are part of the Charleston Campus?
I have been in a college town for 6 years (4 in Gainesville, FL and 2 in Morgantown, WV) and I feel that it will be a nice change of scenery.  Charleston is more than a college town.  There are running trails by the river that I am excited to try, and a really cute Farmer's Market with fresh produce and flowers! As far as medical school, at Charleston I will get a more hands-on clinical experience and be exposed to a new patient population.
Before starting Medical school you spent a month in Italy shadowing physicians.  How did that experience prepare you?
 The summer before I started medical school I spent a month overseas in Italy shadowing physicians at San Raffaele Hospital in Milan.  This trip was a fun way to travel and experience a different culture while still gaining exposure to clinical medicine. Each week, I shadowed physicians in different specialties and got to see surgeries and procedures performed in a variety of fields. This experience also exposed me to a different type of healthcare, which was really interesting to learn about and compare to the US healthcare system. Aside from shadowing, on the weekends I traveled to different cities like Venice, Florence, and Rome just to name a few.  
 Did the programs orientation week help you get to know your classmates, faculty/staff, and get you acquainted with Morgantown before classes officially started?
 The week was definitely beneficial.  It was a great way to meet my classmates and become more familiar with the Morgantown area.  Since I am an out of state student I was able to learn about Appalachian Culture and gain a greater understanding of the patient population here in Morgantown. It was a long week, but very helpful.  
Do you have any advice for anyone thinking about medical school?
 Do it!  I love it.  It is a lot of hard work, but there is nowhere else I would rather be. If you have a passion and a calling for helping people, go for it.
 What activities help keep you a well-balanced medical student?
 I do CrossFit as a way to maintain my physical and mental health. I also try to cook dinner every night and make it a point to maintain a healthy, balanced diet. While I cook I like to listen to podcasts and audiobooks about medicine and murder mysteries!
So far, which wellness event has been your favorite?  
 I really enjoyed the SOM talent show. It was really fun to see the talent that my classmates have and see them enjoying themselves while they performed. As a group we have a lot of talent outside of medicine.  
What plans do you have for the summer between first and second year?
I will be doing a Family Medicine externship for the first month.  Through this externship I hope to gain more clinical experience and apply the knowledge I learned during my first year of medical school. This experience will facilitate my understanding of what it means to be a compassionate, caring physician and help me become more comfortable interacting with patients and physicians. Once the externship ends, I plan to travel home to Florida where I will be attending a Britney Spears concert and spending time with my family and puppy, Bella!  
What are your goals after graduating?
I want to serve my community and be the best physician I can be for my patients. I want them to trust and confide in me.  I want to help as many patients I can. 
Interviewed spring of 2018 (during the MS1 curriculum)
Photo taken the Pylons Lobby with Lucas the therapy dog