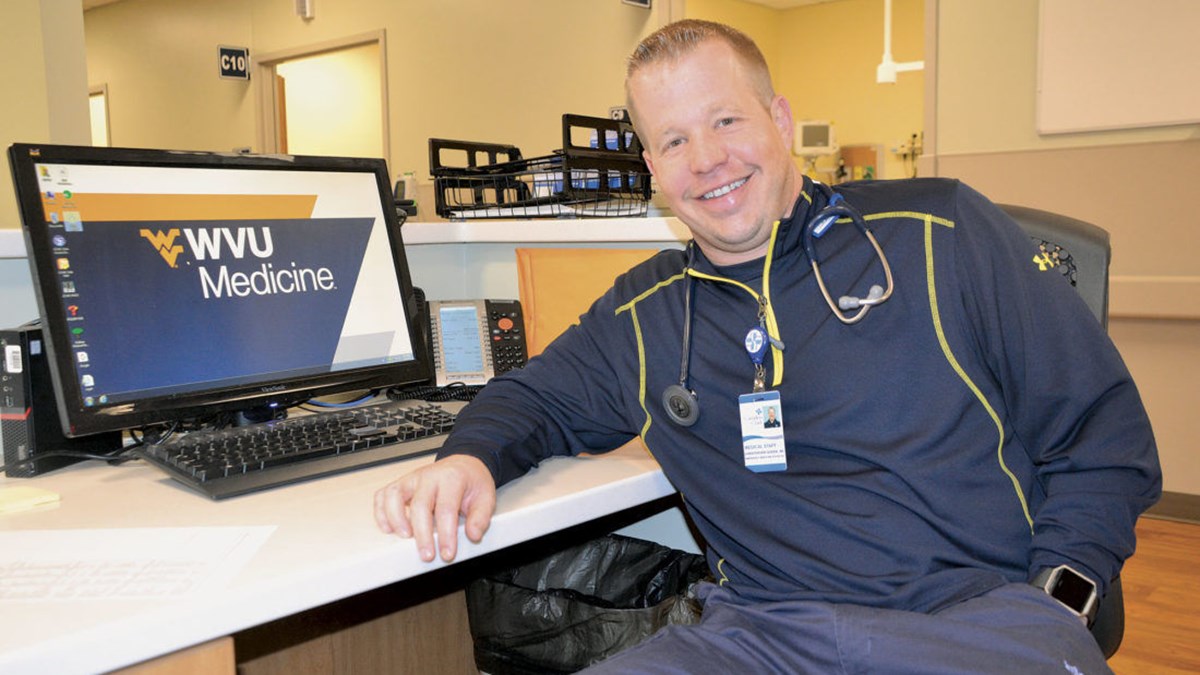 Christopher Goode, M.D., a Mountain State native and Bridgeport resident, is helping to shape the future of health care in West Virginia through his multiple administrative roles in WVU Medicine's system.
As chair of the WVU School of Medicine Department of Emergency Medicine, Goode has a direct hand in educating the state's next generation of caregivers and is one of the principal architects behind the state's largest network of health-care providers.
"In those roles, I oversee not only the clinical enterprise across all of the WVU Medicine hospitals, but also the educational and research enterprises," he said. "So the residency program, the medical student education and emergency medicine, as well as emergency medicine research."
Goode was born and raised in Chelyan in the eastern end of the Kanawha Valley and attended East Bank High School.
As the son of a paramedic, he always knew he was wanted to pursue a career in healthcare, Goode said.
"All I can ever remember is wanting to be was a doctor," he said. "I grew up around a fire station, around emergency medical services and so that kind of was always a part of me and my upbringing. It's one of those things where I can't really imagine myself doing anything else."
For college, Goode first headed out of state, but then returned home to go to school in both Huntington and Morgantown.
"I spent some time at the University of Kentucky for undergrad, but ultimately my undergraduate degree is from WVU," he said. "My medical degree is from Marshall University School of Medicine then I did my emergency medicine residency at WVU as well."
Having attended both of the state's largest schools often leaves him conflicted during football season, Goode said.
"I'm one of those people who says that they're a Marshall fan, as long as they're not playing the Mountaineers," he said.
Since transitioning to the administrative side of healthcare in 2014, Goode said he has come to view his work in a different light.
"What I've learned is that as a doctor you have a unique opportunity to touch people's lives," he said. "I think if you're a good administrator you have the ability to put your providers in situations where they can better touch people's lives. It's almost like a force multiplier."
On an average day as a physician working the floor and making rounds, Goode said he's able to impact the lives of around 20 patients and their families.
"But tomorrow when I'm in my office doing other things, there's a chance I could greatly affect multiple providers who will then, in turn, affect multiple patients," he said. "It can be really tough for healthcare providers to go into administration because it requires a change in mindset. But as long as you keep the idea that it is healthcare at the basis of it, then all your other decisions that you make are centered around the patients."
Although his positions at WVU keep him extremely busy, Goode said he has been active with the Harrison County Emergency Squad since 2006 and sits on its board of directors.
"I think I'm able to bring that larger healthcare evolution perspective and help them position themselves in a way that they can continue to serve their constituents for years to come," he said. "It started out of my love from EMS, and that's still there, but now I'm able to sprinkle in some of my administrative experience to bring a different perspective."
Rick Rock, executive director of the Harrison County Emergency Squad, said Goode is a valuable part of the organization.
"He's so experienced and he relates so well to all of our employees," he said. "He is an intelligent guy who cares about the community he lives, gives great advice and has a great vision of what he wants to see happen."
When he's not juggling his many professional roles, Goode said he enjoys spending time with his wife Kristi and their two sons, Colby and Kaden.
He is also an outdoorsman and a sports enthusiast.
"I spend a lot of time at Snowshoe," he said. "I'm an avid snowboarder and downhill mountain biker. I'm a regular golfer and a member at Bridgeport County Club. I also have a really good group of friends at Ronin Fitness, the CrossFit gym in Clarksburg. If I am not at work you can find me on the mountain, on the golf course or at the gym."
Dr. Kelly Nelson, a Bridgeport-based physician and community leader, said he has known Goode for more than 15 years.
"I first knew him when he was an ER doc at United Hospital Center," he said. "Chris is just a good guy. He's the kind of guy that if you need something, you call Chris Goode and he'll be there for you. He's a fun loving guy, but a hardworking guy. He works hard and plays hard and strikes a good balance."
As his career with WVU Medicine continues to progress, Goode said he looks forward to playing a role in helping his home state modernize its healthcare system and keep up with the latest advances.
"I see where I'm at positioned with WVU Medicine as an opportunity to shape the delivery of healthcare in West Virginia," he said. "I think that one of my major goals is to ensure that every hospital in West Virginia has access to quality healthcare. I think my particular future in healthcare is to make sure that we design a healthcare system where people want to join us, people want to come to West Virginia and make a home here."