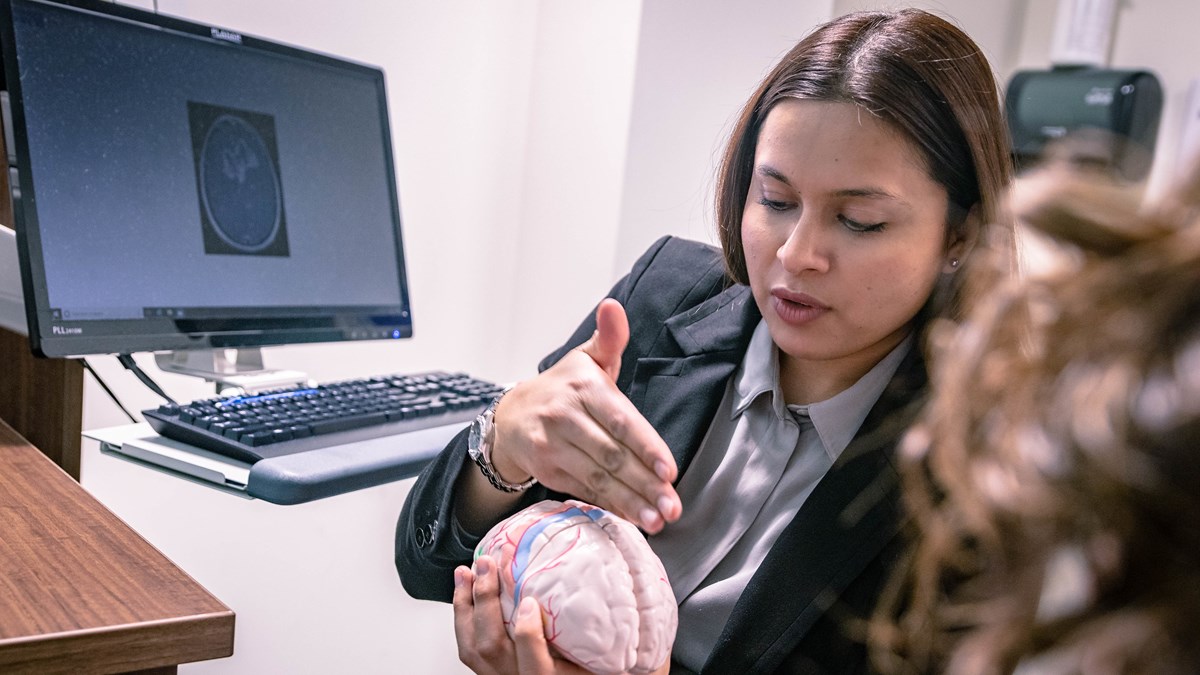 Born and raised in the countryside of Northern India, near the Himalayas, Dr. Aulakh has always found comfort in the mountains and feels at home in the West Virginia.
"My parents envisaged my quest to learn medicine during the early years of my life. Despite innumerable personal and professional obstacles, I became the very first doctor in my family," Dr. Aulakh said. "A thousand miles away from my loved ones, I've found a new home in the mountains where I can wear the smile of compassion to serve our wonderful community."
She attributes her rural upbringing for building her principles of hard work, kindness, patience, grit, empathy and serving others; values that guide her life's work as a brain and spine tumor specialist with the West Virginia University Cancer Institute at the WVU School of Medicine in Morgantown.
"Coming from a similar geographic background, I understand the challenges of a large rural population and the importance of having appropriate access to the medical care without having to travel out-of-state."
Before coming to the West Virginia University, Dr. Aulakh completed her medical school training in India. After her training, she travelled to the United States and completed her clinical rotations at the Mount Sinai School of Medicine in New York before continuing on to graduate from the Internal Medicine residency at the Wayne State University in Michigan. Most recently, she completed her Hematology-Oncology/NeuroOncology fellowship from the Mayo Clinic College of Medicine in Florida. 
In her current position as a brain cancer physician, Dr. Aulakh focuses on treating patients with brain and spinal cord cancers. These cancers may originate in the brain, the spinal cord or occur as a result of complications/metastases from various other cancers including lung, breast melanoma and blood cancers.
"Malignant brain/spinal cord cancers typically fail the traditional standard of care therapies. Mystery of these cancers lie in the genes and by utilizing modern cancer diagnostics, I look for DNA clues in each patient that might offer hope for a new personalized approach instead of one-treatment-fits-all model."
"WVU Cancer Institute is uniquely designed as a center of academic excellence and a source of incredible opportunities for discovery, growth and more," she said.   "My colleagues and I take the best practices from the research world and integrate them into the patient care."
As a lab researcher/scientist, Dr. Aulakh's nationally and internationally renowned research is centered on understanding the immune system of these fatal brain and spine cancers. Her lab focuses on discovering the most effective immune system based treatments such as targeted therapies, immunotherapies, CAR-T cellular etc. She investigates the biological mechanisms that drives such aggressive brain cancers, optimizes the ways to deliver treatments across the brain, and finds novel ways to overcome the brain cancer treatment failures.
"When we think about a disease and how to best treat it, we need to understand the puzzle on a cellular level first," she said. "My translational laboratory focuses on unravelling the mysterious pathways of brain cancers and how best to target those mechanisms to stop or slow the cancer growth."
"Many brilliant scientists around the globe are working tirelessly to understand this disease at depth," she said. "For me, WVU is the place fully equipped to do this sort of research while also providing highest level of patient care."
Dr. Aulakh's work as a clinical trialist attempts to bridge the gap between laboratory research and the treatments patients receive in the clinic. These clinical studies are as a direct outcome of her laboratory innovations and/or in collaboration with other national and international platforms. We all share the primary goal of matching the right treatment to each patient.
"It is an honor to serve the cancer patients and their loved ones who deserve world-class cancer care. We want them to know that they do not have to travel this journey alone," she said.
Teaching as an assistant professor, Dr. Aulakh mentors undergraduates, medical students, doctoral students, residents, and fellows. Training next generation of doctors and scientists from early on will lead to significant advances in cancer treatments.
"I have been lucky enough to live in a lot of different places in the United States and certainly have evolved at the personal and professional level, but this feels the most like home to me," she said. "I am a country girl at heart, and I am glad to help patients who no longer have to travel long distances when they can get the best treatment suited to their needs and specifically tailored towards each individual patient in their own home, in the wild and wonderful West Virginia."